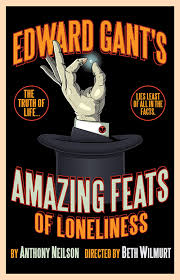 Edward Gant's Amazing Feats of Loneliness
By Anthony Neilson
Shotgun Players
At The Ashby Stage
Through January 12, 2014
AMAZING FEATS OF THEATER
A review by Christopher Bernard
Scottish playwright Anthony Neilson's short omnibus of original fairy tales appears this season in a brilliantly imaginative production by the Shotgun Players at the Ashby Stage in Berkeley.
Edward Gant (a cunning and adroit Brian Herndon) is the impresario of a little band of wandering players, and our factotum and guide into Neilson's maze of stories that are ghosted out of imagination, a few planks and thin air before the audience's childlike eyes. The show, set sometime in the late nineteenth century, is part magic act, part vaudeville, part sideshow, part musical, part poetry recital, part comic existential quest, part tragic farce, as we are led into Edward Gant's attempt to find an answer to what will turn out to be his own despair.
The production is an example of how little it can take a fertile imagination to concoct a world: the back of a truck, serving as a kind of stage-within-a-stage, a few lights strung up in the rafters, a papier-mache ball and a pulley and wire, and voila! There you have the Earth itself, spinning quietly in a theater suddenly become all of space.
A gentleman from Gant's troupe walks about, carrying a stick from which hangs a white paper sphere: it is the sun. A lady traipses in with another stick from which hangs, like a fish frozen in astonishment at being caught, a pale crescent: the moon. Another gentleman walks by with two sagging rods from which are suspended little cages signifying the planet of war – Mars – and the planet of magic and mystery: Saturn. (Edward Gant's troupe being limited to three, plus himself, the rest of the solar system must be left—to our imagination!).
Thus the setting of the loneliest planet in space is made the heart of the show, where we witness three stories that take us from Sicily to Vienna, from London to the Himalayas, from a boy's lonely bedroom to a small stage in Berkeley. The first story, set in Italy, is centered in an encounter Gant once had with a young lady (Sarah Moser, who, like all the players, does multiple duty, and shows great variety and skill; this is her first appearance with the Shotgun players) suffering from a virulent form of acne that destroyed her prospects for romance and marriage. Amazingly, however, her acne has a miraculous side: each of her pimples, when pinched, yields a pearl, which would have made her fortune (if not her happiness) had not her own sister, a "beauty," queen bee and alpha female, taken advantage of her.
The second story follows the attempt by a man (Ryan Drummond, very fine in his several roles, and especially in this one) to wipe out the memory of his great love and of her cruelly ridiculous and pointless death. The attempt leads him into the Himalayas to a holy hermit (Patrick Kelly Jones, a wonderful character actor), who convinces the poor suffering fellow that the only way to remove the memory will be by way of a primitive lobotomy: hammer, chisel, and drill, followed by removal of the offending area of brain. Very spiritual indeed! But the surgery has unforeseen consequences….
The third story brings us, by way of a farcically sappy story about a lonely teddy bear and an imaginary tea party, to the here-and-now with dramatic suddenness as one of Gant's players, in an attack of sanctimoniousness, rebels against Gant himself, against the fairytales he is being made to perform, indeed against the entire project, which he sees as empty, pointless, "pretentious" drivel. "People come to see about real loneliness, real suffering, real poverty," he shouts, while gesturing toward us, the audience. "Not this pompous, silly, made-up nonsense! You're a fraud, Gant! And I'm not doing anymore of it!" And he threatens to stamp out of the theater in a huff, back to "reality."
Just as the show threatens to fly apart at the seams, Gant himself pulls everything together – all three stories, with their elements of fantasy and reality, fairy tale and realism, dream and reality, fact and truth, of "imaginary gardens with real toads in them" (as Marianne Moore famously described poetry – for that is what this show is: the purest poetry), and even his rebel's demand for authenticity, for "reality" – with a gesture and a word that complete the show with a hard, sharp click.
Beth Wilmurt provides the superb direction; the witty and atmospheric set design is by Nina Ball; the properties, of particular interest in this production, were by Kirsten Royston.
_____
Christopher Bernard is a poet, novelist, essayist, photographer and filmmaker living in San Francisco. He is author of the novel A Spy in the Ruins and the recent collection, The Rose Shipwreck: Poems and Photographs. He is a also co-editor of the webzine Caveat Lector.