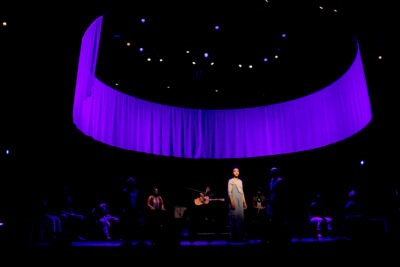 A Seed on Rich Soil
Octavia E. Butler's Parable of the Sower
Cal Performances
Berkeley
Exactly thirty years ago, a novel appeared, with little fanfare or publicity, that would have disappeared under the ocean of similar books that die on the day they are born if it hadn't been for the kind of chance that has saved more than one book from oblivion.
It found a handful of readers – just the right, lucky handful – who passed the word along to other readers, who did the same for others, until it created a union of enthusiasts who found its disturbing vision compelling and entirely too plausible, yet strangely beautiful. The author continued to work in obscurity for many years, and was just attaining recognition as a significant voice in American literature when she died, at 59, in 2006.
The book in question is Parable of the Sower, the author Octavia E. Butler. And the vision that commands it, and its sequel Parable of the Talents, is the basis of the gospel plus rockabilly opera written and composed by Toshi Reagon and Bernice Johnson Reagon and performed at UC Berkeley's Zellerbach Hall that I saw on this year's Cinco de Mayo.
The 1993 novel is set in Los Angeles in 2024, its sequel a few years later. And its vision, at the time it quietly entered the world, must have seemed at the margins of plausibility, a Mad Max version of California fed with cocaine, speedballs, and the rest of the paranoid arcana of the drug culture. Seeing the story play out in 2023 – after the bedlam of covid, the compulsive self-harming of San Francisco, capital of the worldwide technological empire that is shredding society while spewing billionaires like an army of combines across a field of ripe wheat, the descent of America into a cold civil war between the impossibly wealthy and the politically disenfranchised, culturally despised, and economically impoverished – makes one believe the notion of the oracular power of art may not be entirely a professor's dream and a teenager's nightmare, but mere palpable reality.
The opera the story has spawned, through the brilliant talents of the Reagons (a mother-and-daughter team of writers and composers – excuse me, but isn't that the most inspiring and heart-warming thing ever?) and a much-talented ensemble of instrumentalists, singers and dancers (the two last often the same), created a thoroughly inspiring evening for a packed and extremely diverse audience in the heart of the UC Berkeley campus.
The opera plays without intermission for a little over two hours; a probably wise decision, since a lengthy break between the two parts may well have weakened the tension built up so skillfully in the first hour. Though the performance is called an "opera," it feels more like an oratorio, since there is less emphasis on an involved plot and dramatized action than on a series of musical and dance numbers presenting states of mind, moments of crisis, experiences of trauma and loss, and brave attempts to make sense of them and take away, in the teeth of destruction and chaos, some shred of moral and spiritual guidance, some basis for faith and hope.
The plot insofar as there is one revolves around a young woman of color, named Lauren Oya Olamina (a luminous Marie Tatti Aqeel), who lives with her family in a poor community walled away from a collapsing outside world and trying to find meaning in an old-time religion under the leadership of the girl's reverend father. Between musical numbers that fluctuate between the young girl's fears and longings and the anguish (alleviated by a strenuous but sometimes forced optimism) of her community, she retreats to a notebook where she gathers her thoughts in search of a meaning her father's faith has failed to give her.
The tensions within the community, exacerbated by having no escape to the outside world, explode at last, destroying the wall that has been both protection and prison, and scattering a group of destitute survivors, among them Lauren, wandering across a landscape devastated by the forces of the postmodern world, toward a nameless destination "to the north."
When the wall falls, Lauren loses her family and, joining in destitution and poverty in her march across a California wilderness while hiding her vulnerable youthfulness and femininity behind a masculine cloak, she leads her group – a "chosen family" of the homeless, despairing and forlorn – with a new faith, a new religion that she calls "Earthseed," with a text written by herself: "The Books of the Living," and a central doctrine exalting "change" as the essence of the divine.
But there is desperation in her new faith. Indeed, it is a tragic doctrine, one that Lauren herself does not seem willing to face. Because to worship change for its own sake is to worship death. Those who exalt "change" seem to think that "all things change (but I'll still be here)." But that is not so: if all things change, it is precisely you who will not be here.
The resemblances between the 2020s imagined in the mid-90s and their actualities today are often uncanny. And Butler's vision, conveyed with both passion and enchantment by the Reagons and their ensemble, gripped this viewer with a persuasiveness, long after the last chord, that is rarely sustained for so long. Here indeed (to use Keats's famously controversial phrase) beauty was truth, truth beauty.
The performance, despite the grimness of the story, ended on a note of hope that avoided both bromides and fraudulent optimism (a curse of much serious art with popular pretensions). It concluded with a rousing musical version of the biblical parable that gives the work its title. For those who don't recall it, it amounts to the basic truth that, though many seeds of the sower fall on barren ground, on rocks and among thorns, some few fall on rich soil and fertile land, and these take root and thrive and grow to flower and fruit "a hundredfold."
Toshi Reagon served as both introducer and guide into Butler's world; she was also lead guitar and commenting "folk singer" bringing Butler's vision up to date in a way the author would no doubt have enthusiastically approved. Toshi was aided by a strong singing duo, Abby Dobson and Shelley Nicole, and a backup band that sounded far larger than its five members.
After the show, there was a wide-ranging discussion with five of the performers. Toshi left us with much wisdom to savor, not the least of which was this: "There are those who believe what they know, and those who deny what they know. Whatever you do, believe what you know."
Amen to that.
_____
Christopher Bernard is a co-editor and founder of Caveat Lector. He is also a novelist, poet and critic as well as essayist. His books include the novels A Spy in the Ruins, Voyage to a Phantom City, and Meditations on Love and Catastrophe at The Liars' Café, and the poetry collections Chien Lunatique, The Rose Shipwreck, and the award-winning The Socialist's Garden of Verses, as well as collections of short fiction In the American Night and Dangerous Stories for Boys. His children's stories If You Ride a Crooked Trolley . . . and The Judgment of Biestia, the opening stories of the Otherwise series, will be published later in 2023.