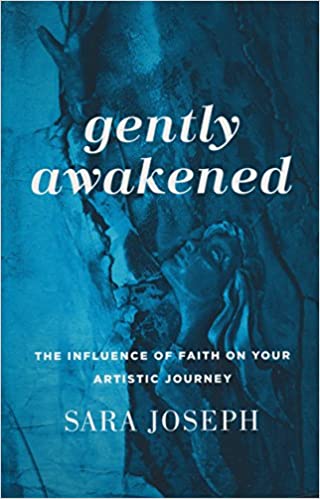 Sara Joseph's Gently Awakened, reviewed by Cristina Deptula
Sara Joseph discusses apprenticeship in her memoir Gently Awakened, about how her career as a visual artist is infused with and an outgrowth of her Christian faith.
Historically, the apprentice to a great artist wouldn't always have lessons in the craft, but would instead assist with chores around the studio while watching the artist at work. This would give the apprentice a chance to pick up attitudes and methods that couldn't be easily explained in a lecture or demonstration.
Sara views her faith journey in a similar way, participating with God and joining the work He's already doing. This means that rather than worrying about how her whole artistic life will take shape, or completely filling her schedule, or taking it on herself to preach through her art, she steadily develops her technique while following inner promptings.
Advice from non-religious business coaches for creative professionals are now saying similar things: don't commit 100 percent of your time and other resources so that you can follow your intuition and be open to opportunities as they arise.
And the most meaningful opportunities that Sara finds, the most memorable and nuanced parts of Gently Awakened, are the small and humble stories of how her artwork encourages people. In one case, a portrait she reluctantly paints of a plain-looking woman becomes a chance to uncover her subject's deeper beauty. Another time she echoes an inspiring vision a struggling widow experienced, helping her find the strength to continue. These are things that happen along the way, God-orchestrated connections for Sara, rather than big moments of drama or career success.
She also learns to let go of avenues for her work just as gracefully as she accepts them, such as a personal studio in an artists' collective, which she excitedly rents, then gives up when her oldest child moves away to college and vacates his room. This gentle grace and dignity is a hallmark of her book, and of the artwork interspersed between each chapters, mostly watercolors of people and natural still life.
Sara touches on themes familiar to the lives of many artists: figuring out whether one should really be an artist, learning the craft, locating time to create and cash for supplies, finding inspiration, handling disappointments, and developing a personal, unique style. She handles that last point in a different way: seeking and following personal faith-based guidance on how to proceed with each work and letting her style form naturally, rather than specifically setting out to be original.
Overall, Sara Joseph's Gently Awakened presents an artist committed to living out her beliefs and who humbly seeks to serve others and a higher purpose with her work.
Sara Joseph's Gently Awakened is available here or internationally on Amazon.