— Fran Laniado
There has been a lot of talk over the past two decades about how the internet has allowed us to make connections that we might otherwise have never imagined. People find jobs, partners, and friends online. Even scientific discoveries are not unheard of. But the internet also allows for unique artistic collaborations, such the collaboration between writer and jewelry artisan S. Kay, and photographer and magnet maker, Gwen Rossmiller.
In the days before Twitter, S. Kay wrote a novel and a novella (unpublished). But for the most part, she gravitated towards shorter work: "either flash fiction or short stories". However, she made the switch to Twitter fiction- stories that are 140 characters or less- when she discovered it.
S. Kay, also a jewelry designer, befriended fellow Etsy merchant Gwen Rossmiller through the Etsy Treasury Flash Mob, a fun group of people who do online art games. Familiar with one another's work, the two began a unique collaboration: mini-book necklaces using S. Kay's fiction, and Gwen's photography.
How did this collaboration come about?
GR – Sandra wrote to ask me if I would like to combine my magnet-making hobby with her micro fiction. She proposed placing her stories on magnets. But being a lifelong book lover and a habitual Etsy browser, I had become interested in the miniature books that I had seen on Etsy. After letting that idea sit for a while, it occurred to me that I could create a miniature book with two magnetic covers that could hold Sandra's story on tiny pages between them. We could place any image desired on the cover to illustrate or complement the story inside.
SK – I'm always looking for unusual venues for my very short stories from @blueberrio, such as postcards, or an origami cube. I knew of Gwen's creative work including her prowess with magnets, as a fan of her Rare Words collection and others, and thought she could do something interesting with my stories. She had an even better idea than I'd imagined.
Why did you decide to collaborate on jewelry specifically?
GR – Since Sandra was a jewelry artisan, it seemed a natural step to go from miniature book to mini book pendant. I thought that many of the photographs I had in my shop would make interesting pendants since I tend to focus on texture and color in my photography.
SK – It was a stroke of genius that we quickly riffed on and got excited about. I loved the idea of my stories in necklaces.
What comes first?
GR – Sandra's stories and my photographs were each created independently. I've been photographing for many years and had many of my photos online in my Etsy shop. When we committed to making mini book pendants, we looked over each other's work and started matching stories and images. I confess, Sandra was much better at this than me and proposed photos of mine that I wouldn't have thought of — and she made clever combinations that really worked.
SK – I'd been writing tweet-sized stories since 2009, and amassed an archive of over 200 published works. I have them all linked from my Tumblr and Gwen browsed them and suggested matches, while I also looked through her photos at Asterisk Photoart. 
Do you make a conscious effort to have all the elements complement each other?
GR – Yes, we use photographs that relate to the story inside or an element of that story — whether to the characters, setting, plot or overall atmosphere. The decorative beads that adorn the necklace also coordinate in color or theme with the story.
SK – We were meticulous in complementing all the elements of the necklaces, not only the photo and stories, but the beads and cords I used too.
How do you handle the manufacturing process?
GR – The first step happens in my workshop: I print the covers and cut the magnets, taking care to magnetically match the front and back covers so that they snap shut with a soft satisfying click in perfect alignment. I print and cut the story pages and add them to the book. I punch holes for Sandra to insert the rings that hold the necklace cord. Then mini books then get shipped to Sandra who decides on the decorative beads and creates the finished product.
SK – Once I receive Gwen's magnets, I bind the mini books with metal rings, and then choose bead combinations to decorate a custom bead pin I attach to the pendant. Choosing the beads was also a collaborative process; Gwen mailed me some from her stash and I had a stash of my own, so I often used her suggestions, or I combined her beads with mine. I ordered a few new ones too, special beads like a tiny avocado. So cute…
Next, I make necklaces from satin cord, and attach the pendants. I mail them back to Gwen for photographing and listing on Etsy, and she packages them in organza bags with cute little tags on the pendants that say "Look – mini story inside." Gwen kindly handles shipping, too.
We kept track of our process every step of the way with an Excel spreadsheet we emailed back and forth. It was useful for everything from matching stories and photos, to choosing beads, to calculating costs and profits.
Our journey in images: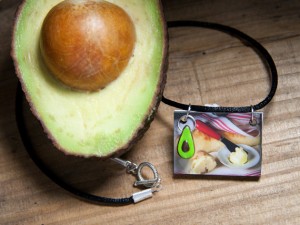 S. Kay, you have a book ("Reliant") of micro-fiction sci fi stories out later this year from tNY Press' new imprint, Exclaim Books. What it is about the tweet sized story format that appeals to you?
SK – I've been drawn to Twitter fiction since I learned about it in 2009, and since then have exclusively written one tweet at a time. I enjoy the brevity, impact, twists, humour, and the challenge of using language with maximum power in a tiny few words.
S. Kay, you also have an origami text cube art object called Spambot Psychosis published by zimZalla, for which you collaborated with an origami artist. What is it about collaboration that you enjoy?
SK – I enjoy the fresh perspectives that other people bring, and like seeing my work appear in new, innovative ways. "Spambot Psychosis" is an unusual avant object, stories have never been presented in that manner before. Same with the mini book necklaces. I couldn't have done it alone. Collaboration brings fortuitous interdisciplinary juxtaposition.
Gwen, what is your background?
GR – I'm a former scientific researcher, former English instructor, former science writer, and lifelong photographer. Recently, I found myself with enough time to peruse and edit the photographs I'd been making over the years. I've always been attracted to patterns and forms, trying to capture images that reveal what the casual observer might miss.
Gwen, can you tell us about any other projects that you are currently working on?
GR – I'm interested in designing some mini blank journals using the same concept as the mini book necklaces. I have a collection of very old books with well worn, stained and weathered covers that would make wonderful images for use as mini journal covers. I'm playing around with these ideas for covers, as well as handmade papers and jewelry findings, and I'm trying to learn some basic jewelry making skills.
What are some of the challenges that you've encountered as collaborative artists, and how do you deal with them?
GR – One major challenge is long-distance collaboration. We set a schedule for getting things done and in the mail, knowing that the postal service between Minnesota and British Columbia can be slow. Sandra is an organizational whiz, so that helps immensely. And I think both of us are conscientious about sticking to a plan and not holding the other up.
SK – Our biggest challenge has not been in our process – I've been very pleased with how we've worked so smoothly together. I think our toughest obstacle is now marketing. Although the necklaces have a high "squee" factor when you see them in person, they're an unusual product that's difficult to convey in a tiny image in Etsy search. People need to read the description or look at all the images with the item listing in order to read the enclosed story, and they often don't. It can be difficult for people to realize just what they are and why they're so cool and unique. But we continue to try new things with marketing.
There is an obvious difference between reading a book and reading a tweet. But if the internet can give birth to a collaboration that helps to bridge that distance, then there must also be a way for people browsing on a website to know they're looking at a unique product. Perhaps in this age of unique collaborations, some responsibility falls upon the consumer to read the description of the items the see. What looks like a book pendant might have a whole story inside.