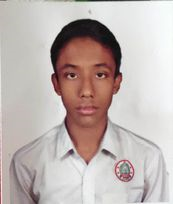 The Sky

Sky is a part of nature.

It is a great gift from the creature. The earth is cover the world around.

And we see it from the ground.

In the morning sky, sunrays given by the sun.

I think, the sun is glowing with fun. Sometimes, the clouds make so dark.

And give boundaries to the sunrays, to reach on the earth.

In the morning sky, the birds are flying.

I think that they are jolly with the morning.

The night darkness covers the sky.

But, the moonlights remove the darkness from the sky.

In the sky, the planes are flying.

We use planes for traveling.

In the clear sky the white clouds are floating.

Like that the cottons are flying.

I think, if I could be one of the clear clouds

I will fly on the sky around.


Don Bormon is a student of grade 8 in Harimohan Government High School, Chapainawabganj, 
Bangladesh.