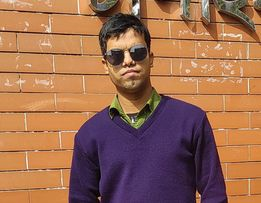 Sin

There was a singer named Tarashanker,
He wanted to treat singer as a 1st number.
One day a man came to him to compete against him,
The man was such a good singer Tarashanker seem.
To defeat the man,
Tarashanker hit upon a plan.
There was a jharbati where the man sit,
To untite the jharbati a man was fix.
By untiting Tarashanker killed the man,
Tarashanker said the people he stopped the accident as long as he can.
The man's wife wanted to God the justice,
The man's son's start singing practice.
God has came to the earth as a stranger,
God has become the man's son's singing teacher.
God made the boy a good singer,
The boy went to Tarashanker and raise his finger.
Tarashanker wanted to the boy removal,
The boy through a singing proposal.
But there was a deal,
He who can defeat ,will give poison and kill.
Tarashanker listened the boy,
Listening the boy, he lost his joy.
Now the cruel man again did that as he did with the man,
But God (stranger) unsuccessful all his plan.
The boy became winner,
He gave the poison to the sinner.
God gave them justice,
By understanding God's justice they pray and practice.

Robiul Awal Esa is a 1st year student of Diploma in Nursing Science & Midwifery Course in  Government Nursing Institue, Chapainawabganj, Bangladesh.