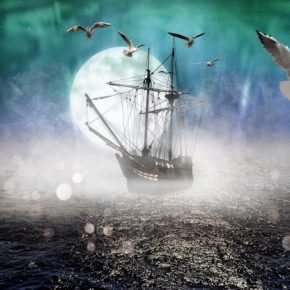 All aboard, readers! This month we're charting our course over literary seas.
As we see in J.K. Durick's poetry, life's circumstances come and go like waves. There are some natural and seasonal patterns, but some of our existence is unpredictable. We do have choices at times, some ability to plot and steer our course, but we are also tossed by wind and water, floating out wherever they take us.
Joan Beebe recounts her visit to coastal Maine, close to the ocean, with views from lighthouses and sunsets over the Atlantic. Sanjay Bheenuck, a London-based author, describes a grittier, less elegant journey through inner Malaysia.
In the poem I mentioned earlier from J.K. Durick, a speaker sails on the open sea, checking the horizon to find the scene there both familiar and unfamiliar at once. His other pieces touch on the discombobulation of travel and the calm of off-season destinations.
Richard Slota's novel Stray Son, reviewed by writer Mike Zone, presents a journey through space and time as the protagonist picks up the ghosts of his past on a trip that's more about understanding than pat reconciliation. He becomes able to place his life's traumas in a broader context.
Mike Zone's own poetry is infused with images of Romantic writers, Beatnik literary figures, and road travel, and Changming Yuan's work crosses borders, whether between night and day or China and the English-speaking West, to reflect intercultural interaction.
As we meander our way through life, we sometimes have the chance to set our sails toward a particular direction.
In her powerful story 'Him and Her,' Vandini Sharma illuminates the life of a woman determined to get an education. Returning poet Mahbub, a Pakistani national and high school English teacher, reflects the tension between the excitement of learning and the harshness of social pressures, including violence. The grouping of these pieces seems to convey a dichotomy, or perhaps a choice, between thoughtful education and mindless chaos.
Some of the destinations we may choose look good at first, but turn out to be only mirages as we approach. So it can be good to recalibrate our course.
Returning Bangladeshi poet Vijay Nair mourns the grotesqueness of poets writing for fame rather than pursuing justice or carrying out an artistic vision. In a similar vein, John Grochalski mocks shallow people who seem to only exist for parties and brunches, ignorant of the rich history of the cities around them. Sheryl Bize-Boutte's poem illustrates choices that seem delicious at first, but later, aren't.
Love and respect seem to be constant human desires as we travel through life. We need our crewmates!
Elizabeth Hughes, in her monthly Book Periscope column, looks over three titles: Kimberly Lake-Seibert's The Adventures of Toby the Bear, Evelyn Blohm's poetry collection Four Seasons, and Lesley Graham's Star Warrior. Whether it's the comfort of the warm little puppy Toby, the gentle verses and kind words of Evelyn Blohm, or the protection of the intergalactic Star Warriors in Graham's novel, many of us need a little support to get through the day.
J.J. Campbell's poetry, like Richard Slota's novel, explores the lingering effects of childhood violations, which as the poetic sequence shows, can lead to extreme isolation and loneliness, in life and perhaps even in death.
Sheryl Bize-Boutte also contributes a short story, 'Madeline and Me,' which brings home the power of friendship and the devastating interpersonal effects of racism.
One of the choices we can make, as we trace our course on the map, is to love and respect ourselves and others.
The third installment of Christopher Bernard's dense, heady novel Amor I Kaos presents the conundrum of why to love in a world where we don't know what is meaningful, and presents the choice to love as a pathway out of isolation and selfishness, a way to make existential meaning. Allison Grayhurst, returning Canadian poet, looks to birds and human relationships to illustrate the fragile grace of existence, as we decide to care for each other despite our finiteness and imperfections. Michael Robinson gives us a sequence of free verse and prose poetry where, despite the many losses in his world, he finds acceptance from his mother, who enables him to extend the same to himself.
Finally, we should remember to look up every so often and calibrate our position by the vast array of stars.
Several submissions touch on the broader journey of existence, who we are as living creatures and our connection to a vaster universe.
Doug Hawley's short story 'Kitten on the Keys' explores the possibility of transcending death by scientifically reanimating dead bodies, of people, or, in this case, a kitten. Fine artist Giorgio Borroni contributes images from our history and dreamscape, including Freud and sea monster Chtulu. Dave Douglas sends in a formal pantoum reminding us to make the most of the time we have before ending up underneath a gravestone, and Ken Dronsfield's speakers animate a world of afternoon, twilight, crabapples, autumn leaves and bones. They're alive but thoughtful, conscious of time and the legacies they are leaving.
Janine Canan's poems celebrate infinite divinity and spiritual transcendence, and the paradox of all of us being merely human, selfish, distracted, weak – but at the same time, so much more than that. Lauren Ainslie looks to the broader world in a more personal way, bringing us a meditation on her visceral emotions, her impressions of an isolated pond tucked away high in the mountains, and a dramatic piece where she heralds her birth and takes her rightful, meaningful place in the grand universe.
In the words of Jack London, "Sail On"!