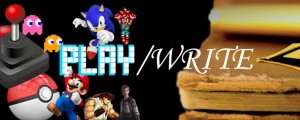 -Ryan J. Hodge
For someone who enjoys a great story, is there anything better than a narrative that engages you from the very start? Imagine a world so rich you can almost smell the scents in the air, a delivery so clever it forces you to think in a way you never thought you would. I'm Ryan J. Hodge, author, and I'd like to talk to you about…Video Games.
Yes, Video Games. Those series of 'bloops' and blinking lights that –at least a while ago- society had seemed to convince itself had no redeeming qualities whatsoever. In this article series, I'm going to discuss how Donkey Kong, Grand Theft Auto, Call of Duty and even Candy Crush can change the way we tell stories forever.
What Star Wars: Rebellion Teaches Us About Writing Asymmetrical Conflict
It may surprise some to know that my all time favorite strategy game is a rather obscure title from 1998. It's called Star Wars: Rebellion and despite the weight of the franchise, its reception was fairly mixed among SW fans and gamers alike.
I can certainly appreciate their concerns; the pace is slow, the battle interface is clunky, and even for '98 the visuals…could be better.