S. Courtney Killian's Days of the Kill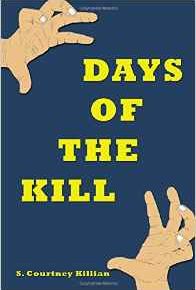 Days of the Kill is the first book for college student S. Courtney Killian. I think she did a great job and I loved it. I love murder mysteries, suspense and thrillers. This book will keep you on the edge of you seat. This will definitely be a book to add to your home library.
Ms. Killian definitely has what it takes to be a writer. I am looking forward to her next book.
Richard Slota's Stray Son
Stray Son is a really interesting novel that will keep you reading and wanting more. Patrick Yaworsky, a Marine Veteran, married and a father of two, works  for a funeral home picking up the bodies of the deceased. One day he sees a young Marine in a WWII uniform who seems to be following him. The young Marine knocks on Patrick's door and introduces himself as Patrick's father. Even Patrick's wife and kids can see him. They know he can't be a ghost because the father is still alive in the present, the year 2000. This is a must have for your home library. it is humorous and also illustrates a dysfunctional family. It will keep you captivated.