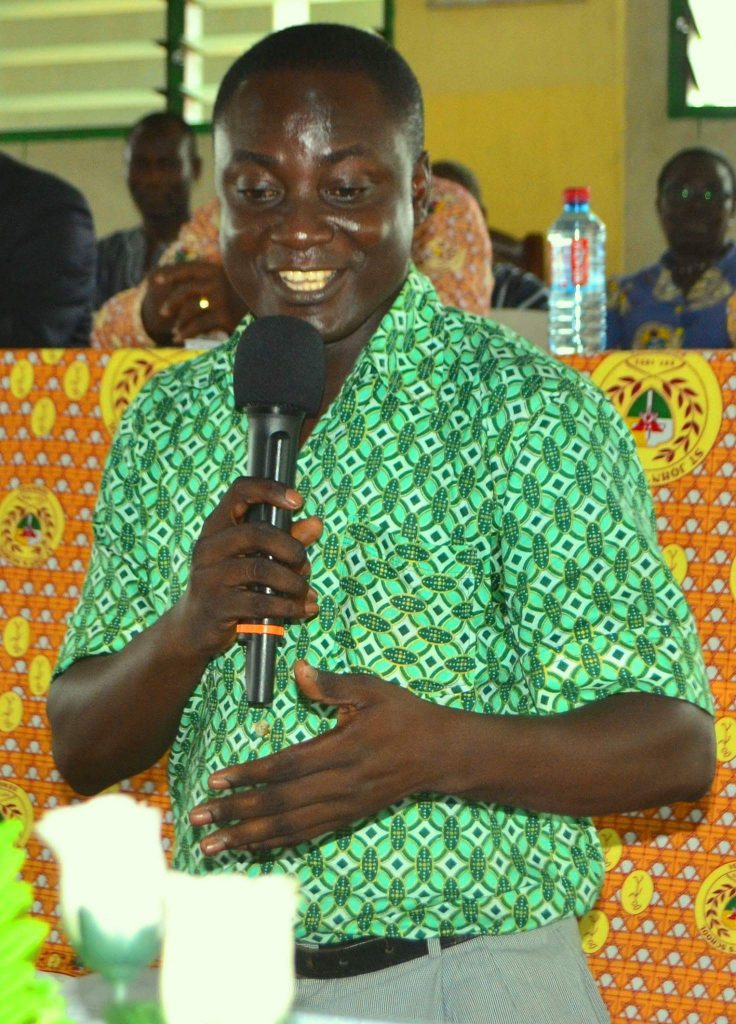 *Pro-Bio* Of *Ike Boat* *Professional Biography* – Pro-Bio *Pro-Bio* – *Ike Boat* #IB Growing Up Story – GUS:
His life, like the metamorphosis stage of an African butterfly going through lots of dramatic changes thought him tremendous things, both negatives and positives. It all started on the suburban street of Amanful West in Takoradi, Western Region of Ghana where he mingled and entangled in a life-style some described as being 'Gutter-Snipe' or seemingly 'Ghetto-like'. Thus, both lowly and highly cherished characteristics of a boy with futuristic ambitions in relation to his passion of every-day life. He's a teenager with heart for reading, writing and reciting what he later termed as 'Read Aloud Session – RAS' for short.
Thus, literally or meaning his solitary moment he picks a story book, newspaper or magazine and hides himself at a backyard or close-door to read aloud like communicating in front of audience coupled with gesticulation and sensation in an atmosphere of loneliness. Factually, learning new things and sharing ideas became his hall-mark. Well, as the saying goes "All works and no play, makes jack a dull boy", viz he sometimes played on sandy pitch football with some neighbors and subsequently played for his primary and junior secondary school football teams. Academically, he's brilliant and good in lots of subjects hence won the hearts of head teachers to become school prefect in both primary and junior secondary levels respectively. Needless to say, ups and downs as well 'Doubting Thomases' of the hood never stopped or bothered him, as he focused in turning his passion to profession in the Arts global industry. LOL, one of his comical growing up character during his early child-hood days of life as a boy, he combined 'Crying tears with bathing water' often-times when he's asked to bath and come for his meal.
Well, if this were Scripture in the book of Psalms, I'll state 'Selah' literally 'Pause and Think'. So, this GUS happens to be a mixed bag of nostalgia about the Ike Boat chap as it brings to fore deeper things yet to come in his creative arts life-style. Who's IB Biography In Focus – BIF: Ike Boat (IB) as his popular artiste pseudonym or stage-brand name. He's originally called Isaac Adjei Boateng to his parent both hails from the Central Region of Ghana, West Africa. In relation to his life-style of creativity and simplicity he chose the current name Ike Boat with the following as meaningful acronym I = Inspirational, K = Kind, E = Effective (IKE), B = Brilliant, O = Oral, A = Artistic, T = Truthful (BOAT).
Well, no wonder such a name has gained both local and global recognition, being on actual and virtual mediums. He's pushed to welcome and embrace mother nature ie(Earth) on 11th June in the 80s (Eighties), being the fifth male child of seven siblings in Takoradi, Western Region of Ghana. His child-hood classroom education started at Bishop Essuah Day Nursery and Kindergarten where he continued to Bishop Essuah Primary and Junior Secondary school respectively, for which he completed in the year 1999. Unforgettably, he's also part of the school's choir which rehearsal was organized and done bi-weekly, thus during days of secondary cycle education. Again, academically he continued his studies at St.John's School and completed in June,2002 as a General Arts graduate. Later in the years, his passion about ministry made him a student of Theology at Maryland Bible College & Seminary of Takoradi being on the list of starters as a means of acquiring insight and knowledge in the scriptures.
Fast forward bit, in the year 2014 specifically between October and December he's sponsored to study A1 German linguistic at the Goethe Institut of Cantonments in Accra, Ghana. He's such a true admirer of languages and always ready to learn from other tongues with clarity of accent as well as intonation. Indeed, he's capable to express himself as in communicating and writing a bit in German language "Ich sprache ein bischon Deutsch". Of course, he had average pass-mark during after test examination at Goethe Institut of Cantonments in Accra, Ghana – West Africa. His passion for music and poetry is a natural result of inspiration through writing and singing. In relation to marriage, he's never married and remains faithful to have cross-cultural inter-racial marriage as he's still single chap with life purpose.
Works And More – WAM: In the year 2016, he's appointed as Manager and Librarian of Amanful Digital Library & Learning Arena – ADLLA at Amanful West suburb of Takoradi, Western Region, Ghana. Whilst there he taught school kids reading and writing skills, thus through pronunciation and dictation. His other works also proper arrangement of library shelves as well as online publications of ADLLA. It's under his managerial role that's when ADLLA benefited from book funding donation of $1000 dollars. Aside, he's also able to organize first ever pre-Basic Education Certificate Examination (BECE) evening classes.
In 2018, he played solid management role with Samanti Super-Market, a subsidiary under the auspices of Samanti Group of Companies, thus he contributed effectively to the social media publicity and strategic online marketing of it products. He's administrator and media director in charge of vlogs as well blogs of the super-market. On 28th, 30th and 31st July,2018 he's instrumental in coming up with a program outline for the official grand opening of Samanti Supermarket being the MC on 28th July,2018. Subsequently, he came up with the 'Shop And Chop – SAC' concept as a means of customer attraction acts which took place at the Samanti Supermarket premises, Lapaz area of Accra. Specifically, as buyers were entreated with free Pizzas and Drinks, thus Monday on 30th July,2018. On the last day of July,2018 he's part of the .Samanti Group of Companies – SGOC, team which donated $2000 dollars plus items to the Accra Psychiatric Hospital in Accra, capital of Ghana, West Africa.
Directly and indirectly, he's also contributed to mini promo-vlogs for B-Flat Studio under PAP Zone 101 Sound Equipment and Events Company based in Kasoa, Central Region of Ghana. He also engaged in assisting then Manager of Estate Lodge Limited – ELL hitherto at Estate Top of Kasoa, Central Region of Ghana. Thus, sometimes as receptionist and other times as cleaning fellow of the premises whilst residing at same place. He's also worked as a local port volunteer onboard the OM ships such as MV Logos II, MV Doulos and MV Logos Hope as well as serving several other mission-oriented travelers and tourist in to Ghana, thus from countries such as Britain (UK), USA, Canada, Australia, Germany just to mention but a few.
He's also hired to worm as social media page Assistant Manager on Facebook courtesy Sprinforth Community School – SCS and there's progressive numerical Likes. Better-still, he also did a promo-vlog to help online publicity of the school, located at East Legon in Accra, Ghana. Book Reading Review – BRR Promotional Concept He's done special social media BRR for Authors such as Mr.Okechwuku Okugo (Nigerian) based in New York, USA. Mr.Dennis Mann (Mr.Dennis Agyeman) – Ghanaian based in Accra, capital city of Ghana.
Hitherto, he's also been featured publications on the following online Magazines: *Wake Magazine – USA *Synchronized Chaos Magazine – USA (www.synchchaos.com) Portfolios As Artiste – PAA: Musically, his first ever demoed song titled Jubilee Love reggae genre was recorded at KODED Studio in Takoradi by then studio Assistant engineer, this in 2007. And in 2010, he recorded another Gospel Reggae single dubbed Gabbatha To Golgotha at the P&M Studio also in Takoradi, Western Region of Ghana. He has composed several songs, one titled OM All The Way dedicated to Operation Mobilization – www.om.org 
It's later recorded in-studio whilst at Tema with a professional instrumentalist fellow. The following are some notable audio portfolios online: No Mom Like Rose (Spoke-Word Poem), I Can't Understand – ICU (Spoken-Word Poem), Oh, CV – Corona Virus! (Spoken-Word Poem), The Piano (Spoken-Word Poem). They can be listened to via Sound-Cloud Web-Link: www.soundcloud.com/ikeboatofficial Special birthday dedication dubbed Our Triple A @ Seventy, thus Mr.Alfred Addo Acheampong (Dual citizen of USA and Ghana) with Mr.Kenneth Anim as the Executive Producer. Being such a talented vocal individual, he's done series of Voice-Overs ranging from Adverts, Promos and Jingles which have aired both on-air (radio) and on-line (world-wide-web). Some notable ones includes: Mount Sinai Enterprise (Takoradi), Samanti Super-Market (Accra), PAMUCHAHA Program By Breakthrough Family Ministries International (Takoradi), Raycona 1 Venture (Kasoa), Green-Light Academy (Kasoa), Shining Light Educational Centre (Kasoa), Fire Of Favour Chapel International (Kasoa), Smally Green Super Collections (Nigeria), Crystal Palace Hotel (Kasoa), Poks Vocational Training Institute (Ashaiman).
He's also recorded unreleased Poetic-Ad piece for Bel Aqua Mineral Water as a creative promotional work dubbed AABA Project still in-studio pending remix and refix engineering touches. Indeed, he's such an incredible Voice-Over in terms of vocal prowess for making Adverts, Promo and Jingles. He's also featured on P.O.E.T Anthology and Spoken-Word poem feature on Blaq Ice Production album in USA respectively. As a professional vocal talent, he's also a good musical figure with demos and singles as part of his unreleased audio portfolios. In relation to film-making or movie acting, his first ever character feature took place at Blue Top Villa as he played a dramatic role as Patron in one of the scenes courtesy Gh-Media School students film project. Precisely, on 4th January,2021 – Title of Film: Riddles. He's often open and hopes to enhance his professional portfolios to the apex, thus on higher heights in both local and global arts industry.
Media Experience – ME: Radio/Television/Internet (Online) – His first ever radio experience, thus exposure took place on Radio Maxx 105.1 FM as mere introducer of a Christian program dubbed Power Word of Jesus hosted by Rev.Nyameyekese Wireku. Specifically, it's in the year 2003 as a fresh graduate of Senior High School (2002) at the heart of Western Region, Ghana.(West Africa). As a matter of fact, he's associated with the following media organizations: BBC – World Service, being instrumental during the official launch of BBC 104.7 FM in the Western Region of Ghana. He's the microphone holder towards audience contributions at the Skyy Amphitheatre during the live broadcast of World Have Your Say – WHYS hosted by Ros Atkins of British Broadcasting Corporation – BBC fame.
Unforgettably, he's interactive and informative several times during the weekly broadcast of Maple Leaf Mail-Bag show on Radio Canada International in Montreal, Canada hosted by Ian Jones precisely via phone contributions and online submissions on the show. Better-still, he's done numerous postal correspondence and received behind the scenes recognitions on Voice of America – VOA in USA as he did a creative poetic write-up about VOA. There's been some other effective contributions on some notable international broadcasters, thus acting as Correspondent.
The following are some key radio stations he's had connections and contributions in relation to program or content participation, thus even interviews and being a panelist on-air i.e. (Good-News 96.3 FM, Help 103.9 FM, Beach 105.5 FM, Paragon 99.9 FM, Empire 102.7 FM, Radio Silver 92.3 FM, Y.97.9 FM, Cheers 90.7 FM, Angel 95.5 FM, Kingdom 107.5 FM, Kyzz 89.7 FM, Twin City Radio 94.7 FM, Western Region, Ghana). GBC-Uniiq 95.7 FM, Sunny 88.7 FM, Class 91.3 FM, Joy 99.7 FM, Starr 103.5 FM – Accra, capital of Ghana). His first ever television appearance took place on TV3 Mentor as part of Western Region music audition/screening in 2006.
Subsequently, he's also on the Vodafone Icon – Mixed Edition music audition in Takoradi-city at the time. He's been on several other TV screens sometimes on street vox-pop and phone-in or text message contribution. Prior to 2020 General Elections in Ghana, together with Face-TV crew under the management of Grino Multi-Media he did a pre-election vox-pop sampling views about which political party and presidential candidate was likely to win power to rule the nation, Ghana. His maiden moment on live TV show as a panelist took place on Awake TV dated Friday,19th March.2021 at 10pm to 11pm which was simultaneously streamed live on Facebook. Directly and indirectly, he's contributed to several other TV and Radio programs both in the Western and Greater Accra (Capital) regions of Ghana. Besides, He's been effective on some notable online broadcasting platforms, even when it comes to social media publications. His rich knowledge in the media-spheres has revealed his versatility and creativity with respect to radio and television.
Hence, has made him one of the secretly and highly sought-after creative content provider, being a reputable contributor of different programs on-air and on-line respectively. He has professional connections with other on-air radio station personalities in different regions of the country due to his insightful broadcasting expertise and communication experiences. Last but not least, he's also good when it comes to social media page and group management. Gigs In Detail – GID: Ike Boat as a Spoken-Word figure, has performed on stages such as the maiden launch of Western Music Awards in Takoradi, Western Region, Ghana. Peace Gospel Concert organized at Bethel Methodist Church, Takoradi in 2016. Spoken Reasons by Takoradi Poetry Club in Western region, Ghana. Valentine Night Show by GIE Events in Takoradi, Ghana. Reflections Music Album Launch by Minister Shedrack Tronu at Takoradi Polytechnic Auditorium, Western Region, Ghana. The Thinking Conference organized Good-News 96.3 FM, Takoradi, Ghana. Shine Awards – Breakfast Meeting – March,2018 in Accra, Ghana. Poetry And Drama Festival by Centre for National Culture – 2018 at Fijai, Sekondi, Ghana. Maiden Event of Street Praise by PAP Zone 101 at Kasoa, Central Region of Ghana. I-Code Event 2021 – Takoradi, Western Region, Ghana. PAP Zone 101 – Africa Union Day Event at Crystal Palace Hotel, Top Hill – Kasoa, Central Region, Ghana. of Just to mention but a few…
MC Of Events/Shows: IB as a skillful and brilliant Master Communicator #MC of ceremonies. He's thrilled audiences of Birthday parties, Wedding, Engagement, Album launch and other social functions. He's chosen to be the MC of his uncle's 70th Birthday Party at Estate Top, Kasoa. Constantly and consistently, he's Anchored as MC of Church programs at Mount Zion International Gospel Church, Estate Top of Kasoa. In 2018, he's the official MC during the opening of Samanti Super-Market at Lapaz, Accra. Indeed, two consecutive times he's MC of Street Praise organized by PAP Zone 101 at Kasoa, Central Region of Ghana. He's also contributed as supporting or auxiliary MC of Wedding Feast which took place at Blue Top Villa, Kasoa, Ghana. Better-still, he's the auxiliary MC alongside DJ during Graduation Event organized by In God We Trust Vocational Training Institute at Kasoa, Central Region, Ghana. Interestingly, he's often quite entertaining when MC alongside DJ playing music to audiences. He's often influential figure, be it minor or major events or shows.
Achievements/Awards/Nominations – AAN: 2014 – Nominee (International Poet of the Year), NPA – National Poetry Awards, USA. 2015 – Nominee (International Poet of the Year), NPA – National Poetry Awards, USA. 2016 – Awardee (Winner) – (International Poet of the Year), NPA – National Poetry Awards, USA 2017 – Awardee (Winner) – (Best International Artist of the Year), NSWA – National Spoken-Word Awards – Courtesy 'Blaq Ice Production' – USA. People Of Extraordinary Talent – P.O.E.T – Africa Ambassadorial Award, USA. 2018 – Awardee (Winner) – (Best International Artist of the Year), NSWA – National Spoken-Word Awards – Courtesy 'Blaq Ice Production' – USA. Shine Awards – Nominee – Poet Of The Year, Accra – Ghana, 2019 – Awardee (Winner) – (Best International Artist of the Year), NSWA – National Spoken-Word Awards – Courtesy 'Blaq Ice Production' – USA. 2020 – Nominee – (Best International Artist of the Year), NSWA – National Spoken-Word Awards – Courtesy 'Blaq Ice Production' – USA. Bronze Certificate – Vocal Category – Virtual Edition – World Championship Of Performing Arts – WCOPA, USA. Tikpan TV Writing Contest, UK & Ghana – 1st Edition – First Winner 2021 – Nominee – (Best International Artist of the Year), NSWA – National Spoken-Word Awards – Courtesy 'Blaq Ice Production' – USA. 2021 – Nominee – (Humanitarian Of The Year) – Global Empire Entertainment Media Awards – GEEMA, USA