Marvels and Terrors
Antigona
Soledad Barrio and Noche Flamenca
Z Space
San Francisco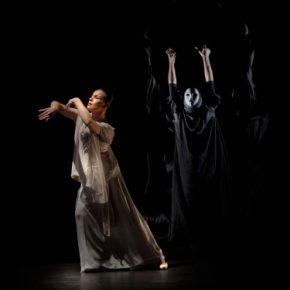 Reviewed by Christopher Bernard
"In the world there are many terrors and marvels,
but none more marvelous, and more terrifying, than man."
—Sophocles, from his tragedy Antigone
Noche Flamenca brought its dance version of Sophocles' famous tragedy to Z Space in San Francisco for an unfortunately short run this February. (Short because, as the result of an injury, the first week of performances had to be cancelled.)
However, the rest of the run remains, and there is still time to see one of the most intense evenings in dance you are likely to see this season.
Sophocles' searing play touches on some of the profoundest issue of human life: family versus the state, love versus politics, the gods versus man, feminine versus masculine values.