You Have to Get Lost Before You Can Be Found
Jeff Rasley
Pikey Peak base camp is a yak herding station. Our group of three trekkers from the US and staff of seven Nepalese were camped there in anticipation of climbing the mountain the next day. We were on our way to Basa village in eastern Nepal to begin work on a hydroelectric plant to provide the village of sixty-two homes with electricity.
A yak calf nuzzled Cathy, our agriculture expert, and me while we explored the campsite. After the kitchen was established and the tents set up, Ram, our cook, signaled lunch was ready. It was early afternoon. While we sated ourselves on roti (bread), dal bhat (rice with lentils), and dudh chiyaa (milk tea), I asked our sirdar (chief guide) Ganesh whether we could hike up to the summit today rather than wait until morning. It was a cloudy day, but there wasn't anything else to do except read and play with our little yak friend. I didn't want to hang around camp all afternoon.
I knew the summit of Pikey Peak was at 14,000 feet and base camp was 10,000 feet. The summit was a two hour hike and scramble above, according to Ganesh. We could easily hike up and be back before dinner time. Cathy was feeling nauseous and feared she was getting altitude sickness.
The expedition started with the drive from Katmandu at 5,000 feet to Jiri village (6,250 feet). We'd crossed several high passes in a week of trekking but our sleeping altitude gain was only 4,000 feet. Basa village was three hiking days ahead of us.
Kathy opted to stay in camp and play cards with Hamid, Nirman, and Buddhi. Mike, our chief electrical engineer, Ganesh, and I headed up the mountain side.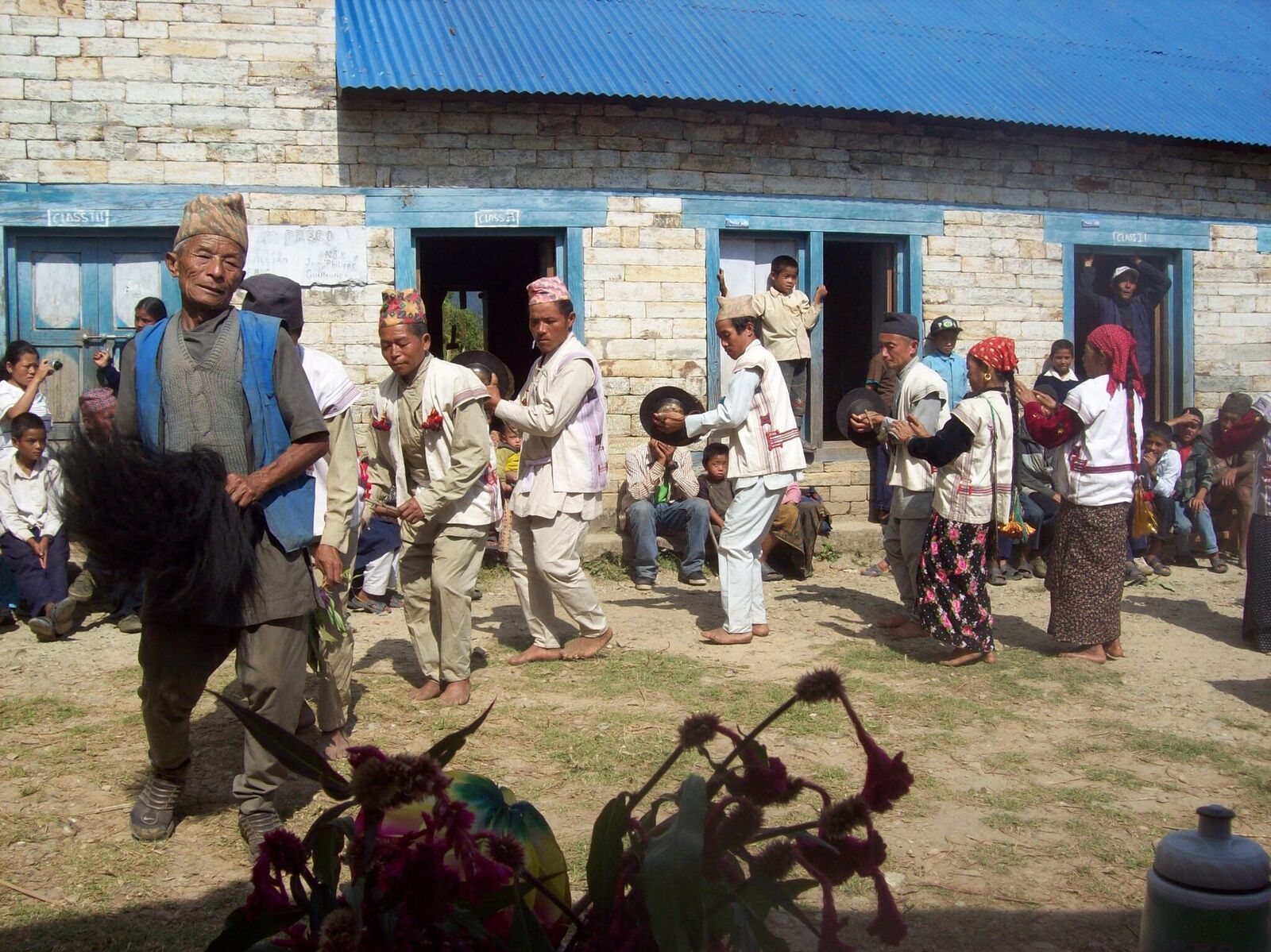 We picked our way through the woods above our campsite. A couple hundred yards up Ganesh pointed out a rocky trail. Clumps of dense vegetation made the trail difficult to see, except when it broke out into a rocky clearing.
Mike was obviously affected by the altitude and was making very slow progress. I signaled that I was going on ahead. After fifteen minutes I looked back and saw Mike sitting on a boulder. Ganesh and I waved to each other. The next time I looked down they were out of sight.
I felt strong and was moving well. To make the adventure more fun I started scrambling up and jumping from boulder to boulder. But clouds were beginning to roll in, so I picked up the pace. Just below the summit there was a series of stone steps. Beyond the last rock-step was a rounded green hump with an arch of prayer flags — the summit!
Wind was whipping the prayer flags crazily on their poles. The view of the vast Himalayas from Kanchenjunga and Makalu east to the Everest Massif dead ahead and Annapurna in the distant west was awesome.
I hiked by myself every day for short distances along the trail from Jiri to Pikey, but other members of our crew were usually within shouting distance. This was my first moment of complete solitude.
After just a few minutes clouds enveloped the summit. Visibility was reduced to about ten feet. I hadn't taken a photo of the vista, but I did take a shot of the prayer flags as proof I was there.
The wind was picking up. I assumed Mike and Ganesh had returned to base camp. It is unwise to be on an exposed summit during a storm. I spent a few more minutes sitting in meditation, then hoisted my pack to head downhill.
I walked back in the direction I thought I had come up. But the stone steps just below the crest of the summit had vanished. I tried different directions, but I could not find the stone steps.
What the hell! I was feeling fit and strong. It would be fun to break my own trail down the mountain. I started bushwhacking my way down.
The trail we'd taken from our last campsite at the Ngar Gompa (Buddhist monastery) tracked around the side of Pikey Peak to our campsite. So, whether I went down the same route I came up or another shouldn't matter, because I had to run into that trail on my way down. Then, I'd follow the main trail back to our campsite. I had a compass in my backpack, but hadn't taken a compass reading. No worries, the main trail was somewhere below me.
Hiking to the summit my attention was focused on the terrain immediately in front of me. I had not even noted which side of the mountain the Sun was on. I couldn't see the Sun now anyway, because the fog was impenetrable.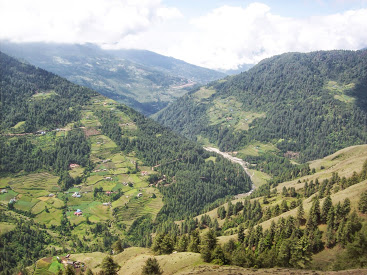 Nepalese sirdars are the most extraordinary people I've known. They are almost super-human in strength and endurance, sweet tempered, patient, and devoted to the well-being of their clients. And Ganesh was the best. But Ganesh wasn't with me now.
I ran into a thick patch of scrub pine. I bushwhacked straight through. I had to move from tree to tree, hanging on to branches or trunks, because the raw mountainside was so steep. The trees ended above a rocky cliff edge. Without rope I couldn't down climb the rock face. I worked my way along the ledge and came to a frozen waterfall. Water was trickling under several inches of ice on smooth rock for about ten feet. The outcrop leveled off into a forest of rhododendron trees.
I slid down the icy rock landing hard but unhurt. Turning an ankle would seriously end the enjoyment of this little adventure.
I bushwhacked my way through rhododendrons; hit another rocky outcropping, which I climbed down. Here, every inch of ground was covered with tea plants and ankle- grabbing vegetation. It was like walking in deep mud. I worked my way to the edge of the vegetation back into the rhododendron forest.
The detour forced me to veer off a straight-line to intersect the trail. I grasped tree limbs for purchase to keep my balance as I struggled down the mountainside.
There was nothing to be worried about; more than two hours before sun down. I had two granola bars in my pack for snacks. I didn't have any cold weather clothes or a sleeping bag with me. The hike up and back to camp was only supposed to take three hours, two up and one down. I had expected to be back in camp well before dinner time.
The fog was still very dense. Eventually I found myself among tall spruce and pine trees. I knew that the tall trees were just above the trail and hooray! There it was – the trail. Our campsite should be up the trail to my left.
I was getting a little hungry so I paused to eat one of the granola bars. I strode down the trail feeling bold and confident again. The little bit of anxiety that had started to creep in evaporated. Getting lost for a little while and making my own trail was another cool adventure in the Himalayas.
But something wasn't right. There were footprints in this direction on the trail, but the trail was descending. I clearly remembered the trail to the campsite gradually ascending. Mike took altitude readings and remarked that we'd gained 200 meters when we reached Pikey base camp.
I followed the trail another thirty minutes before I was convinced I was going the wrong direction. Turning back the way I'd been hiking seemed logical. I should have gone right when I found the trail, instead of left.
I back-tracked for half hour running a hundred yards or so every few minutes. It was getting late in the afternoon. Sun down would be at six. I had at least an hour before dusk. Both of my headlamps were in my tent. Stupid! I didn't want to be hiking after dark without a light and cold weather clothes. Anxiety crept in.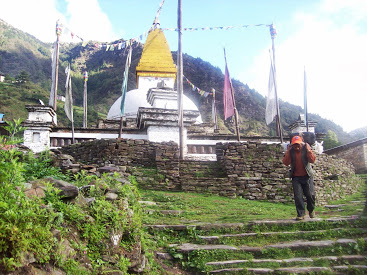 I jogged past the forested area where I'd found the trail. The fog was finally starting to clear. I could see fifty yards. Twenty minutes later the trail came to an abrupt end. A rock slide had wiped out a huge stretch of the trail.
Could I pick my way across the rock slide to gain the trail again?  Loose rock on a steep incline would be too dangerous.
This made no sense! We didn't see a trail wiped out by a rock slide on the hike from Ngar to Pikey. Where the hell was I?
Settle down. Don't lose it. Turn around and go back. There must be another trail I'd missed in the fog. I backtracked on the run. I looked for caves in case I'd have to spend the night on the mountainside.
Just past the point where I'd found the trail, I noticed a break in the trees. Above the trail was a little clearing in the woods I hadn't seen before. I found a broken down fence and remains of some straw bales. It was a yak feeding station. Yes!  I remembered seeing it on the way to our campsite. Across the little pasture was another trail. And there was a Buddhi arrow!
Buddhi always drew a directional arrow whenever our trekking trail crossed another. This was a Buddhi arrow telling me this higher trail I'd missed was the right one.
Dusk was rapidly approaching. I alternated from jogging to speed hiking every couple hundred yards. I soon came to another trail intersection. Without hesitation I turned uphill. Another twenty minutes and I was back at the pasture where I'd started. Aargh!  I had run and walked in a circle!
To calm myself I started chanting the Buddhist mantra:  Om mani padme hum.
I followed the circular trail at a steady pace back to the crossing trail. This time I stopped and looked closely at the trail to the right. The fog was gone, but the Sun was down behind the mountain to the west. In the gathering dusk I could see recognizable boot prints. Yup, there was Hamid's with the zigzag pattern.
Night settled on the mountain by the time I sighted lights at our campsite. I knew Ganesh and the crew would be worried, so I began yelling as I approached the camp. Ram poked his head out of the shelter he was using for the kitchen. He said Mike and Cathy were in their tents but the whole crew was up on the mountain looking for me.
I ran to the trail head and hollered up toward the summit of Pikey. After fifteen minutes of yelling and running I saw Ganesh waving his arm and whistling. Buddhi was higher up also waving and whistling.
Eventually we all gathered in the meal tent. Poor Hamid had hiked all the way to the top looking for me. Yet all the guys were in a good mood sharing rice and chang (beer) in the warmth of the tent.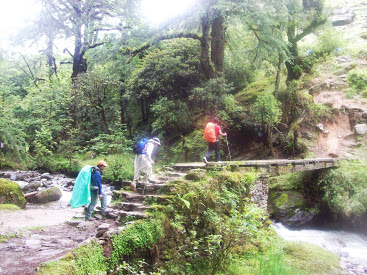 Being alone and feeling lost on the mountain reminded me that we are social creatures. I enjoy hiking alone and other solitary activities. But I need community. Sharing the warmth of our meal tent with the guys, laughing about my execrable sense of direction, and passing around plates of dal bhat and cups of hot tea, this was good.
Ganesh gently poked fun at me for creating a new trail down the "wrong side" of the mountain. He joked that it would be named for me, but no one else would ever find it. He also complimented me for recognizing the tall trees were nearest the trail and for finding Hamid's shoe print. "Jeff dhai (big brother) is becoming Nepali mountain man. He is learning to see."
Risks shouldn't be incurred stupidly, and age has diminished the thrill of adrenaline highs, but continuing to live life as an adventure has given me much in experience – experience of who I am out of my comfort zone and how strong my will to survive is. The willingness to dare carefully is the first step toward living adventurously. But you might need to get lost before you can be found.
Jeff Rasley is a "phlantrho-trek" organizer and writing coach. He is the author of 10 books, the most recent is ISLAND ADVENTURES; Disconnecting in the Caribbean and South Pacific