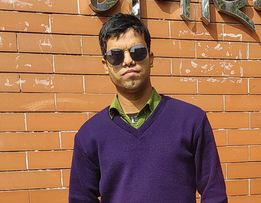 Aim 

There was a man named Nizam, 
He killed 99 people and couldn't calm. 
He felt ashamed and wanted forgiveness, 
He treated it as a challenging race. He went to a Sadhu to get a way, 
But Sadhu disappointed him and Nizam found no way. 
Nizam killed the Sadhu as he was angered, 
And had gone to another Sadhu with a view to his need. 
Nizam had to go a place Sadhu said at last, 
Nizam tried going fast.
But the angel of death came and Nizam died, 
Can Nizam see the path of light? 
Now a divine angel want to take Nizam's soul, 
Whereas hell's angel said it was not the divine angel's role. 
The head of angels came to give a solution, 
Angel said measure Nizam's destination. 
It was more than the middle point 
The divine angel took Nizam's soul, 
Nizam was got rid off for his aim and goal.