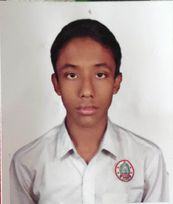 A River
River is a part of nature.
It is very important for our culture.
This is an irremovable thing for us.
It has many importance for us.
In our country,
We have many rivers.
Padma, Meghna, Jamuna are the biggest rivers. We have also many small rivers.
Mahananda, Atrai etc are the popular of them. In our country rivers don' flow in a straight way.
These rivers flow in its own way.
These rivers provide us fish to eat.
That contains a lot of protein.
We can go many places easily by rivers.
That is very useful for us.
I think, if I can be one of the small rivers,
I will flow on my own way.
And make an own beauty of me.
Don Bormon is a student of grade 8 in Harimohan Government High School, Chapainawabganj, Bangladesh.