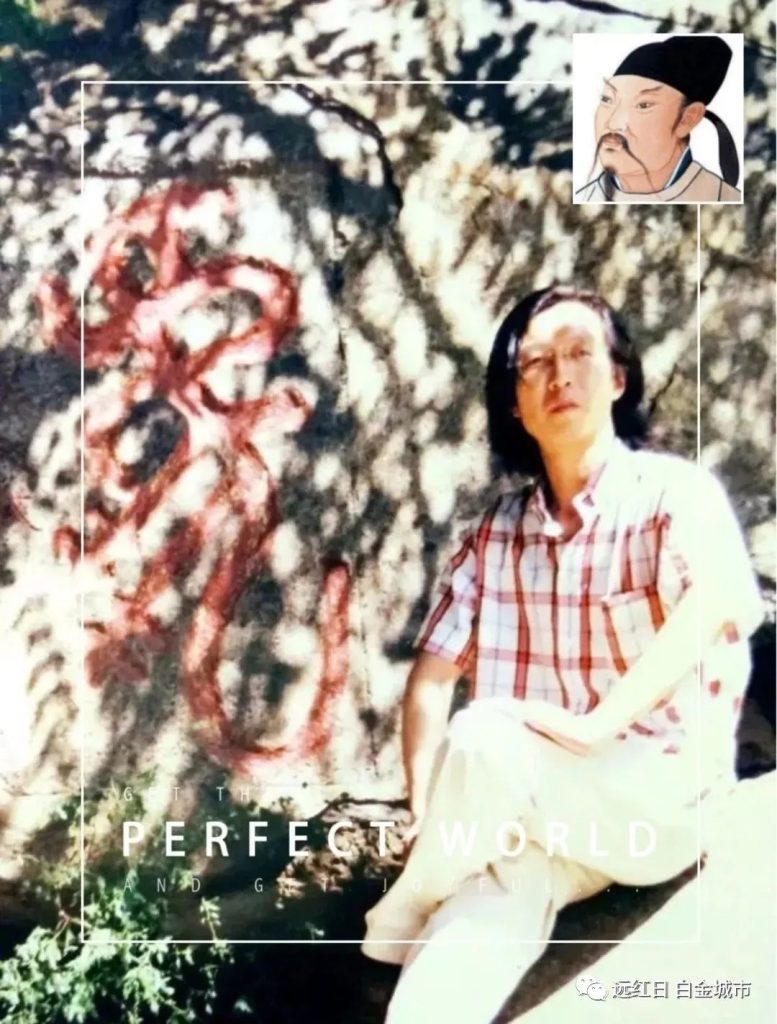 Heavenly Temples and Towers

I rode a heavenly camel towards a desolate desert, .
a jade bottle poured the sweet dew of the Kingdom of Heaven
and converged a lake of springs that never dry up.
so where the giant trees in prehistoric times grew up.
Their branches and leaves rippled like the garden of phoenixes and birds,
and the song of birds sounded like music,
which made the clouds in the sky to be intoxicated by the time.
And the colorful and transparent grits grew into the huge jewels in the dreams
Even grew into heavenly temples and towers.
3.20.2018

一座一座天国的殿宇楼阁

我骑一匹天国的骆驼来到一座无人的沙漠
一只玉瓶倾泻天国的甘露汇成永不枯竭的泉水之湖
于是生长出史前的巨树枝叶婆娑宛如凤鸟的花园而鸟鸣如乐让时光醉了天空的云朵
而一粒一粒五色透明的沙砾在梦境里长成巨大的宝石长成一座一座天国的殿宇楼阁
2018.3.20

Giant's Yourself in Another Giant City

The gods who delight and smile in your body,
much older than stone and much younger than the morning.
They bestow you with the nectar of the kingdom of heaven,
make your bones becomes much more transparent with each passing day.
So the light of soul wakes up in your head,
then you hear a ballad from an outer world;
In the labyrinth of time you see giant's yourself in another giant city.
3.15.2018

那另一座巨城的巨人的自己

在你体内欢喜微笑的诸神比石头更古老比早晨更年轻
他们赐你天国的甘露让你的骨骼一天比一天透明
于是灵魂之光在头颅里醒来你听到一曲天外的歌谣
在时间的迷宫里你看到了那另一座巨城的巨人的自己
2018.3.15


Prehistoric Myself

When the heaven woke up in my body day after day
and the world began to be hyaline and smiling,
I saw myself fifty thousand years ago 
that engraved the poems of shimmering gold in the jade.
The stars were spinning in space and composed the mysterious pictures,
and that giant who travelled by light waved to me joyfully,
made me to be happy and perfectly comfortable, 
as if have met prehistoric myself.
3.7.2018

史前的自己	

当天堂在我体内一天天醒来而世界开始透明微笑
我看到五万年前的自己在玉石上刻下金光闪烁的诗章
星辰在太空旋转组合出神秘的画图而那乘光而行的巨人
向我欢喜地招手令我陶然若醍醐灌顶仿佛见到了史前的自己
2018.3.7


The Soul is Invisible Muse

Open your eyes of soul and you'll see countless yourself.
No time goes by, as if the sun and the moon never set and rise.
The world is only a book of phantom and the soul is invisible Muse.
Before the words hadn't beent born yet, you have been a giant 
from the the kingdom of gold, who know not what is meant by yourself.
3.5.2018

灵魂是隐形的缪斯

睁开你的灵魂之眼你将看到无数个自己
没有时光之飞逝犹如日月从未落下与升起
世界只是一部幻影之书而灵魂是隐形的缪斯
在词语尚未诞生之前你曾是黄金之国的巨人不知何谓自己
2018.3.5





A Flying Saucer of Giants

Day by day the lightning in my body is waking up
and flying to this mortal world that dark night like iron. 
Seeking devils's head and make him to be a skeleton of hell and repay a gem time
That python's body will become a golden bridge towards a giant city of tomorrow,
standing out against the sky , like the clouds rising and gathering.
And an interstellar spaceship on my palm like a flying saucer of giants,
that flashing miraculous brightness from an extraterrestrial Galaxy.
4.13.2018

天外之星系的闪烁灵光之巨人之蝶

我体内的闪电正在一天天醒来而飞向这个黑夜如铁的尘世
寻找魔王的头颅让他成为地狱的骷髅而偿还那一枚时间之宝石
那巨蟒的身躯成了一座黄金之桥而通向明日之巨城矗立于天际云蒸霞蔚
而我手掌之上一轮星际之飞船犹如来自天外之星系的闪烁灵光之巨人之蝶
2018.4.13





Yuan Hongri (born 1962) is a renowned Chinese mystic, poet, and philosopher. His work has been published in the UK, USA, India, New Zealand, Canada, and Nigeria; his poems have appeared in Poet's Espresso Review, Orbis, Tipton Poetry Journal, Harbinger Asylum, The Stray Branch, Acumen, Pinyon Review, Taj Mahal Review, Madswirl, Shot Glass Journal, Amethyst Review, The Poetry Village, and other e-zines, anthologies, and journals. His best known works are Platinum City and Golden Giant. His works explore themes of prehistoric and future civilization.


Yuanbing Zhang (b. 1974), is Mr.Yuan Hongi's  assiastant and translator.He is a Chinese poet and translator, works in a Middle School, Yanzhou District , Jining City, Shandong Province, China. He can be contacted through his email- 3112362909@qq.com.