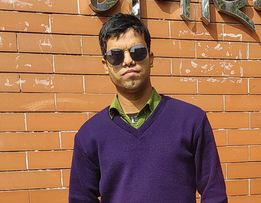 God's Justice
We can not see god,
But our faith for him is a lot.
There was a man named Dharma-adikary,
He gave punishment to a bride's father because of marriage.
The bride was low class and groom high class,
According to Dharma-adhikary it is a curse.
The punishment was in cultivating land play the role of cow,
The father had to grow crop in one year any how.
Playing the role one day the father became sick,
Mother said to God to give them justice.
God came down to the earth as a stranger,
The stranger say "your nephew will marry a low-class, how danger!"
Dharma-adhikary say ,"How can it be possible, "
I will go there to disable.
Dharma-adhikary and stranger left with a view to go there,
Suddenly their vehicle damage, stranger say a soraikhana is near.
There a father-in-law said that he got many gold from daughter-in-law,
He said to Dharma-adhikary about gold and show.
At night, the stranger transfer gold-bag to Dharma-adhikary,
In the morning, when they saw gold-bag missing they seem who can carry.
Searching his bag, everybody got him as a thief,
They all bit him and he couldn't believe.
After some time the stranger came to him,
Getting him Dharma-adhikary said the stranger he needed some food,
They went to a cowboy for food but he was rude.
Stranger said Dharma-adikary will work instead of money,
Cowboy gave food and gave Dharma-adhikary the work of ghani (role of cow in the field).
Dharma-adhikary imagine his given punishment to other,
He understood his injustice and went to the father.
Dharma-adikary said to the father to forgive him,
All are astonished about Dharma-adhikarh and for them it was a dream.
The mother understood God's justice,
They all became faithful, pray and practice.
Robiul Awal Esa is a 1st year student of Diploma in Nursing Science & Midwifery Course in  Government Nursing Institue, Chapainawabganj, Bangladesh.