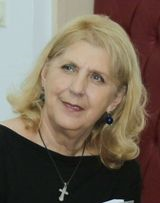 You You Yes

Be enough for myself
Incomplete without her
Enough for her
And in the unknown

They sometimes call it a miracle
The metamorphosis of yours
And the buzz of a bee can't distinguish
From the silence of the hornet
I'm not at the loss site
From the cross to the cross

You turn around your axis
You are somewhere
Close

On my way to Katanga
Still to come
And you exist.

Slavica Pejović is a B.Sc. Political scientist, diplomat, writer, poet, editor-in-chief of the magazine for culture and science "Majdan". She wrote three documentary books on the history of librarianship, 13 independent collections of poetry and two joint collections. Winner of numerous awards and recognitions in Serbia, Tunisia, Romania, Italy... Her poetry has been translated into many languages: Hungarian, German, Italian, Arabic, Macedonian, Russian, Bulgarian,... French, Spanish. .. She is a member of the Association of Writers of Serbia. She lives in the city of Požarevac in the Republic of Serbia.