Due to previous technical difficulties, Synchronized Chaos Magazine's March 2015 issue will go live Monday, March 2nd. Thank you for your patience!
Welcome, readers, to February's issue of Synchronized Chaos International Magazine. This month, perhaps in line with a certain view of the Valentine's Day holiday, we turn to themes of loss and longing.
Elizabeth Hughes brings us reviews of several horror, thriller, fantasy and suspense novels in her Book Periscope column: Michael de la Pena's FBI covert action thriller Coyote Wars, Marjorie Thelen's utopian spoof of old-fashioned campy sci fi, A Far Out Galaxy, and Bobby Sutton's Cajun horror tale Reunion: The Making of a Legend. 
What sorts of psychological longings are addressed by horror and thriller novels? Why do these genres continue to appeal to readers? Our colleague Merrick Hansen, in an interview with Bobby Sutton that we hope to reprint, suggests that horror appeals to our primal instincts, gets our attention and makes us feel something and remember that we are alive.
I and others see in these genres a way to experience intense feelings in a safe, vicarious environment. When my life is calm, I find myself enjoying something bolder and rougher, such as Coyote Wars or Reunion. When things become more chaotic, I seek out something more akin to A Far Out Galaxy, which contains plenty of action and suspense but affirms the power of love and connection. As much as some people make fun of 'campy' writing or pieces with happy endings, the fact is that books of this sort remain popular, in part because people seek out some basic order to the universe, some sense that even setbacks are part of a larger story that will eventually make sense. Brian Sutton points out that even horror is not necessarily nihilistic and can point to moral order without a requisite happy ending when seen as illustrating the ugliness and dangers of evil.
Elizabeth Hughes also reviews Deborah Hawkins' Ride Your Heart 'Til it Breaks, a literary romance whose characters grapple and choose among a variety of desires: for meaningful careers, stable relationships, passion, and finding their true selves. Hawkins explores forgiveness and self-discovery as ways to make peace with our past losses and present choices in her tale of an undying connection between a musician and a lawyer.
Some poets this issue express different sorts of longings. James Brush goes back to earlier poetic forms to convey something even more primal: the need for rain. Brush seeks out a more elemental, real connection to nature, to something visual and visceral. G.K. Brannen also speaks of harmony with nature, with the water and desert, in an authentic, tough-minded way. Just as Brush and Brannen encourage us to look outward and pay attention to our physical world, columnist Ryan Hodge looks to the ecosystem of video games to illustrate how much we can learn about our surroundings and how much of a story we can put together through careful observation.
Peter Jacob Streitz' work laments that he never became bold and uncompromising enough in the quest for good, a piece inspired by the life of Martin Luther King. Kahlil Crawford also experiences a death of some of his idealism, as what he considers a worthy nonprofit turns out to be marred by systemic arrogance. Marjorie Thelen also fantasizes about expanding the possibilities of her life, envisioning different destinies in a more fanciful piece.
J. Lewis' poetry illustrates grief in a piece inspired by the attack on the World Trade Center but intended to become more universal. Jordana Feld's tango-inspired artwork celebrates a dance embodying longing and desire.
Arron Erickson cries out through poetry for a fairer world where there is recognition of activities less popular that competitive sports. Paul Beckman's flash fiction piece shows how a man's behavior leads to disappointment and loss in his life.
Alan Clinton's quirky travel vignettes include lots of cultural references, from 90's band Oasis to Babylonian temple customs. In this way his speaker seeks to be part of history, part of the global pantheon of culture. Ross Bryant plays with words, tantalizing us with a plethora of language that stimulates our desire to communicate and be heard.
Andrea Carr's novel Family Tree the Novel: Family Tree's protagonist Angel Harper longs for a family without secrets. In this novel, reviewed by Tony Longshanks leTigre, the loss of Angel's sister drives her to reconnect with relatives and push for this level of wholeness.
Sue W-D's poetic vignettes are suffused with intimacy and memory, and provide us with pleasing glimpses of her cat. This issue's collection of Nigerian-inspired fables from Laura Kaminski are meditations on thought, awareness, and gratitude.
Virginie Colline renders death in a poetic stylized manner, perhaps finding beauty in the pain of loss, or softening it through art. And Christopher Bernard grapples with the killings of cartoonists at the Charlie Hebdo magazine through the medium of cartoons.
Thank you very much for considering the thoughts and works of this month's contributors.
Marjorie Thelen's A Far Out Galaxy
A Far Out Galaxy is a sci fi romance. It is a must have for fans of sci fi and fans of romance. Queen Vita and Commander Will both need heirs. The cloning process has been sabotaged by Commander Will's step brother, who also wants Queen Vita for his own. Read A Far Out Galaxy today for fun and laughter and the many adventures of the crew of the spaceship Maximum. I absolutely know you will love this book as much as I have. It will keep you on the edge of your seat page after page. This is a must have for sci fi and romance fans alike. I highly recommend this book. Happy Reading!
A Far Out Galaxy may be purchased here: http://www.amazon.com/Galaxy-Deovolante-Space-Opera-Book-ebook/dp/B00H1C9CQ8/
Michael de la Pena's The Coyote Wars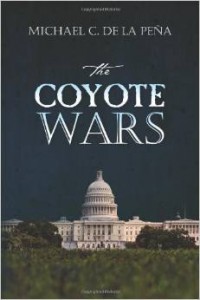 The Coyote Wars is a suspense thriller that will keep the reader intrigued until the very end. The Coyotes are the grown children of a couple that is plotting a home terrorist scheme. I love the way the book tells about each character and their role in the story. I love the build-up of the plot. As the story unfolds you will absolutely not want to put the book down until you have finished reading every page. This is a must have for everyone's home libraries. I absolutely loved this book and highly recommend it. Happy Reading!
The Coyote Wars can be purchased here: http://www.amazon.com/Coyote-Wars-Michael-C-peC3B1a/dp/1492992682/
Bobby Sutton's Reunion: The Making of a Legend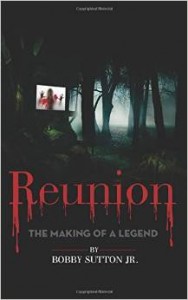 For those who love horror stories, you will love Reunion. This is definitely a must have for your home libraries. You will want to read it in one setting. It is exciting page after page and will make you want to sleep with a light on. Reunion: The Making of a Legend is the story about a group of friends who get together in Breaux Bridge, Louisiana for their 10 year high school reunion. They have all been having nightmares over the years of the friend that disappeared the night of the prom. The friends went out to the haunted house to try to see the ghost of the Old Man. They heard insane laughter coming from the darkness and thought it was one of them that was making the laughter. They decided to leave one behind as a prank, when they came back, he was gone. When they gather for their 10 year reunion, a couple of them disappear and they go out to find them. What they walk into is a nightmare in and of itself. Buy Reunion today and find out what happens to the friends as they embark on a nightmare of an adventure. Absolutely loved this book. Happy Reading.
Reunion may be purchased here: http://www.amazon.com/Reunion-Making-Bobby-Sutton-Jr/dp/1502303930/
Deborah Hawkins' Ride Your Heart 'Til it Breaks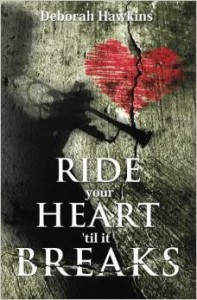 Ride Your Heart Til It Breaks is a very deep and thought provoking love story about the complicated love between a musician and a lawyer. It is written so that the does not get lost when Karen thinks back to the past and her relationship with Stan the musician. Karen began as a lawyer for a firm that had her sit in at a nightclub for a development company that wanted to force the owners out so they could build on the land. When she went there night after night, she developed and relationship and fell in love with Stan the musician and also the couple that owned the night club. Stan had a scarred past that kept him from loving anyone until he met Carrie. Years later Carrie marries a lawyer at the lawfirm she works at and goes by her name of Karen. She eventually becomes a judge and her marraige to Howard has been in name only for years. Then she comes across Stan again, who is, deep down still in love with Karen. Read it today and find out what happens in this love story of the complicated relationship and deep love between Stan and Karen. You will not be able to put it down until you are through. It willl keep you wanting more page after page. I absolutely loved the book!! I give it 5 stars! Happy Reading.
Ride Your Heart may be purchased here: http://www.amazon.com/Ride-Your-Heart-Til-Breaks/dp/0988934736/
Lazarus Jewelbox
Inside a shell, there was a sea
holding all the world's blue waters.
But it was also half full of drought.
All she'd ever known was drought,
but ear to the shell, she heard the sea,
the circling cadence of the waters.
Caroline released the waters
and left a shell now full of drought
and threw it deep into the sea.
Sea waters stall the birth of drought.
///
To Call the Goddess
The old man lost faith in rain,
stopped praying, whispered soft,
I've had enough. I give.
How many poems can you give,
brother, to call the goddess of the rain?
A shadow in a sheep's clothes, soft
wings flutter, a sound so soft
you stop the car, pull over and give
a listen to the whistle of a train.
To hear the rain fall soft again? I'll give.
/// (more…)
MLK
I'm no longer MLK
Or Mahatma
Hell, I'm not even Robert
Kennedy
Much less Jack
And forget Harriet Tubman
All I wanted was . . .
the prize
The peace
And justice
For all those years
Of fighting my past
And presenting myself
As open to every change
And hoping—
my former Being
Could be forgiven
For transgressions
Not of my doing
But in my nature
While the saintliness
Of my new design
Desired to be
The low hanging fruit
Lynched high in penitence
Swaying from a tree
That sprinkles liberally
My seeds
Of struggle . . .
goodness and light
On an earth
Ripe with new dawns
That pierce the darkness
With an awakening . . .
sunshine
Yet the world—
blinded by this virtue
Turned tiredly away
Denying the angelic
Sowing
Of a heart unrestrained
Progressively collapsing
The morrow
With realities
Etched in stone
From the bad old days
NEXT TIME
Next life I'm going to be a truck driver
Long distance with a sleep compartment in the back
I'll drive from Alaska to Argentina
The roads might be better
or they might not be there at all
After that I'll be a world famous theoretical physicist
brilliant, a genius, published
I'll figure out what it's all about through incredibly complicated math equations
I'll talk in formulas
After that I'll be a world famous rock and roll star or
Maybe a jazz bass player or
Maybe Janis Joplin or
Was that my previous lifetime?
Tango and the Art of the Unseen
Jordana del Feld is a San Francisco artist and Argentine tango dancer. She paints and dances to connect with the world without and the world within. Her freehand painting technique balances her lifelong training and study of both Eastern and Western art. The dance of the brush records the inner energy of her subjects. Many people mistake the paintings for photographs, but they show what a photograph cannot. They are the art of the unseen.
The tango paintings began as a study of light and shadow, positive and negative, motion and stillness, men and women, yin and yang (and all that jazz), but over time, became intimate portraits that told the story of Jordana's community. What began as an artistic exercise became confessions from the heart, of the entwined stories of a little world of lovers, friends, hope, heartbreak, joy, sharing, despair, discovery, and above all….
Love.
Equal Treatment for all Groups
Why don't you treat school activities the same as sports
Why do you treat us like the youngest child
And give everything to the oldest
So why I ask why
You never announce FFA or Robotics competitions
Yet you announce sport competitions
So why do you treat us like the youngest child
And save everything for the oldest
Or you don't acknowledge us when we go to state
But you do for sports
So how is that fair
We work just as hard as athletics do but in a different way
We build robots, we study topics like trees
So why do you treat us like the youngest child
It just isn't fair
Iron and Ether
Something familiar in the curve,
The anguished bend of steel overcome
By heat and stress beyond belief –
Caught my eye because it was
The essence of you,
Trapped and facing death,
Refusing to yield until
The last possible life
Had slipped to safety.
I bought the photograph.
All I have of you
Are the vapors of memory,
One of thousands missing
And logically dead.
Still, you are as solid in my mind
As that monument of iron,
Arching as though to shield me
From the emptiness ahead.
j.lewis is an internationally published poet, musician, and nurse practitioner. 
His poetry and music reflect the difficulty and joy of human interactions, 
and often draw inspiration from his decades of experience in healthcare. 
When he is not writing, composing, or diagnosing, he is often on a kayak, 
exploring and photographing the waterways near his home in California.
Surprise!
Mirsky turned fifty-five on his first ever business trip and now was pulling into his garage at home. Expecting a warm and loving reception from his wife Elaine he became instantly depressed when he noticed her car was missing from the garage.
Mirsky had the non-enviable ability to become instantly depressed for almost any reason, good or bad.
He pulled his suitcase from the trunk and it dawned on him—a surprise birthday party was awaiting him. Of course, he thought. How could I have been so dumb?
He smoothed his hair, straightened his jacket and practiced surprise faces for when he opened the door. Mirsky mind-counted twenty-three couples and a few singles that Elaine just had to invite to his party. He was excited as he turned the door knob to enter the kitchen.
The silence was deafening. He flicked on the kitchen light and saw a note on the counter.
'Went to the movies, see you soon. LE."
Dejected, he lugged his bag into the bedroom and saw there were candles set around the room, a bottle of champagne sitting in ice and another note. "Make yourself comfortable, birthday boy—see you after the movie. Oh, yeah. Turn on the VCR. LE."
Mirsky showered, opened the champagne and poured himself a glass, got into bed in his altogether and turned on the TV and VCR.
One by one his friends wished him a happy birthday and then as a group they sang Happy Birthday. They were in his house having a party.
The TV flickered and the party was gone and he watched a close-up of Helen, the woman he met on his business trip. Then he watched them drinking at the bar and then having dinner and finally them making out on the way to his room.
Mirsky heard Elaine's car pull into the garage and he grabbed the remote, turned the TV off and pulled the covers over his head thinking, "But it's my birthday".
Some People Do This For A Living
RJA is, by anyone's standards, "Royal" in nature at least as far as economy class goes. Having decided to protect myself via a magical sign akin to the evil eye, I flew into the Middle East for the first time wearing my "Babylon Whores" (Swedish Goth Metal Band) t-shirt as a way to strike fear in anyone who might wish me ill, particularly given that not quite "all" my papers are yet in order, enough to get me in but one never knows how customs agents look upon people whose work visas are not completely finished seeking the "tourist visa for now." That said, the worst customs agent I've ever encountered was a Canadian "Mountie" who, after not buying the truth about me driving up to an artist's compound in Banff (art is always hard to explain, especially "conceptual art," ironically enough), searched my car high and low with me standing inside a painted square at a designated "safe distance" and had a way of asking me questions as if it were possible to give a wrong answer to questions such as "do you have any alcohol in the car." Well, I thought, Canadians do love their drink but—hey wait a minute fucker you're searching the car anyway. And no, I don't have a pet hedgehog in the trunk who's going to jump out and maul you when you open it. Are hedgehogs violent? If I wasn't so lazy I'd google it and see, not to mention the fact that the word hedgehog in this context doesn't strike me as very charming/funny, which I always strive to be, almost to a fault. Okay, to a fault.
Review: FAMILY TREE: THE NOVEL, by Andrea Carr
For Synchronized Chaos Literary Magazine
By Tony Longshanks LeTigre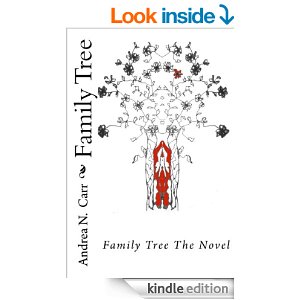 "I wanted the sense of camaraderie I felt in jail," Angel Harper confides in us a little less than half way through this slim, yet emotionally supercharged​ novella. Harper's older sister, Lady, has always had self-control issues, but her sudden suicide comes as a shock to Angel, who spends the ensuing days and weeks attempting to trace the factors that led to this tragedy. Her mother, a beautiful but unforgiving and emotionally repressed (and repressive) woman arranges Angel's release from jail, but what seems a respite and return to freedom ends up "out of the frying pan, into the familial inferno." As Angel tells us (p. 29), in a passage to which some readers will no doubt relate:
'How do you say your family is a bunch of crazies who do the best they can? When and how do you bring it up?' I asked [my little brother Philip]. He laughed; I felt better. They are not retard or schizophrenic-crazy, everyone appears handsome & pleasant to outsiders. That's what's crazy about us.'
​Carr has a way of transcribing the complex thoughts of her narrator by piling one short, pithy sentence upon another in a way that sometimes looks confusing at first, but ends up ringing true: emotions, we feel, do pour out of us in these dizzying bursts, our mental processes do happen in this haphazard fashion, like socks when they first come out of the dryer at the laundromat, before they are sorted and paired.
Though heavy and largely dark in tone and subject matter, there are patches of light and laughter that break through, and we are glad Angel manages to find some solace, a sense of closure in the end that can come from the grief process. It seems, in a way, her sister's death is not entirely in vain, in that it makes the difficult relations with her family slightly less so, for a time. We wish Angel the best, and wish we could give a warm and compassionate hug to the author, as well, if (as one suspects) she has gone through something like this in her own life.
Family Tree The Novel: Family Tree is available here: http://www.amazon.com/Family-Tree-Novel-family-tree-ebook/dp/B00HAKQB5Q/