This month's contributions form a sachet of assorted potpourri, each with its own flavor and scent.
Our writers create elaborate new worlds in their pieces. Fantasy novelist Alexis Kennedy, author of Bound through Blood, excerpted in this issue, develops a universe of vampires and their human lovers and victims, suffused with the mythology of the old American South and the need to understand one's history to embrace one's destiny. We also include the introduction from Carol Staff's The Return of the Necromancers, a complex piece inspired by medieval European history, involving royalty, merchants, mines, village markets and evil supernatural forces.
Staff looks at her world-building as a means of escape, creating another world to enter when our own becomes harsh. Her realm, Danovian, is no gentle paradise for its inhabitants, as plenty of tragedy occurs by accident as well as through revenge and malice. But it is a place where good, evil and loyalty matter, and there are redeeming elements, both within the story itself and through her act of transforming her stress into a new creation.
Poet Dave Douglas illustrates the fear and implicit conflict and violence within our own reality and our own minds through his piece "The Machine," comparing our minds to an inner-city law enforcement drama. Karl Schonborn's memoir Cleft Heart, Chasing Normal, reviewed here by Bruce Roberts, explores the inner and external conflict brought about by bullying and exclusion of those who look different. The author was harassed as a child because of his cleft palate, which inspired him to research and teach on nonviolent communication.
Karl Wolff's essay collection On Being Human, reviewed by Christopher Bernard, looks into what our philosophy, actions, popular culture, religion and science have suggested over the past centuries about who we are and the meaning and value of human life. Bernard, and other thinkers, speculate that our current worldviews may not adequately equip us to sustain life on this planet. We may need to do more work to create our inner worlds if we hope to survive.
Lysious Ogolo's short story "Lost but Found Love" illustrates the psychology of grief, as Jane, the protagonist, goes through a variety of feelings and experiences after the supposed death of her partner.
In her monthly Book Periscope column, Elizabeth Hughes reviews Rita D'Orazio's Italian immigrant family saga novels Don't Look Back and Katerina, as well as Lisa Henthorn's young women's fiction piece 25 Sense and Michelle Bellon's romantic suspense novel Rogue Alliance. D'Orazio, Henthorn and Bellon's books present characters with difficult pasts, who must heal from a variety of losses and mistakes in order to be able to trust again. Their inner landscapes become as much a part of the setting of their stories as the government top-secret research facility, corporate office, or California immigrant communities where they live.
Opera San Jose's production of Madama Butterfly also relates an emotional tragedy, young geisha Cio-Cio San's abandonment by her husband. Reviewer Holly Sisson focuses in on how the atmospheric music and floral sets entrance the audience and bring them into the story so they mourn along with the main character as her "American Dream" collapses.
Essayist Ayokunle Adeleye also discusses something commonly associated with the American Dream, but which is in fact a goal and path out of poverty for many people worldwide: entrepreneurship. In his two columns, he advocates that his Nigerian compatriots launch their own businesses, and cautions them about expanding too quickly and overextending their capital.
A wide variety of poets evoke sensations and landscapes through their words. Amy Huffman brings us to a beach harbor, where we watch ship sails move in and out with gusts of wind and waves grind rocks into sand at water's edge. Virginie Colline condenses her thoughts down to haiku, showing us cats' eyes, ice, and ocean waves with an intense focus on a single image. Perhaps Twitter, and the emerging literary form of microfiction, represents a modern Western resurgence of haiku?
Jenny Williamson also looks to water for inspiration, reminding us of its presence throughout our bodies and the natural world, and thus suggesting our kinship with the rest of the planet. Kenyatta Jean-Paul Garcia writes with a different, somewhat songlike rhythm, and draws upon Biblical and historical imagery to convey the journeys of humanity and life as if they were gentle conversations. In his first piece he uses a water droplet from the Garden of Eden to reflect creative nourishment, reminiscent of Williamson's themes.
Portuguese writer Rui Carvalho creates a colorful, fanciful world of emotion and life in his pieces, yet grounds them in a form of reality with percentages, names, and facts. Poet Bruce Roberts brings the sound of his radio, and other physical sensations, to the page, and Neila Mezynski gives us a humorous ode to the joys of overindulging in cake.
Please enjoy the cacophony of sensations that is this month's issue of Synchronized Chaos Magazine! Our writers invite you to step forward, pick up your backpacks and trail mix, and venture forth into their new worlds.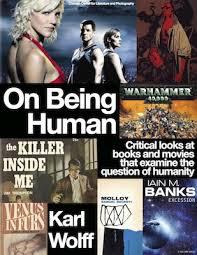 What Are We, Anyway?
On Being Human
By Karl Wolff
38 pages
Chicago Center for Information and Photography
Various formats, including electronic and a paper edition, available at cclapcenter.com/onbeinghuman
An essay review by Christopher Bernard
The question "what does it mean to be human?" has become daunting. Both more urgent and more problematic in recent decades, it promises to become even more so in years to come. This short book of brief and stimulating essays on "novels and movies that examine the question of humanity," written by Karl Wolff, a staff writer and associate editor for the Chicago Center for Literature and Photography, brings a number of these concerns to sharp focus. His book does what criticism does at its best: not only raising important questions and suggesting new avenues of exploration but introducing readers to ideas and works new to them, or encouraging readers to revisit and understand them in new ways.
It is odd that up until a few decades ago, the title "On Being Human" could have been used for some anodyne book in an undergraduate "humanities" course on "the miracle of Greece," the marvels of the Renaissance, and the triumph of the Enlightenment, with a few passing references to such modern sages as Tolstoy, Albert Schweitzer, and Gandhi. Only in the last century, especially the last generation, has the category "human" become problematic, troubling, even empty, as the lessons of the "inhumanity" of human beings learned from the monstrosities of slavery to the carnage of Verdun to the death camps and killing fields of Europe and Asia to the Sixth Extinction have sunk in, and the virtues of our humanity have seemed increasingly overwhelmed by our evils.
The POTENTIAL: Breaking Forth
It was the beginning of a new session. The young boy put on his
uniform and was set for school. At the end of the term, the boy was
sent home with a note from his teacher thus: 'This boy should not
report to school henceforth. He's too dull for knowledge and performed
woefully in arithmetic. He may never amount to anything in life.' That
young boy however grew to have the most intriguing mind of all time.
His brain became the focus of research into human intelligence and
abstract thinking.
That young boy was Albert of the Einsteins
Centuries ago, a young boy was employed at the Royal Institute,
London, as a laboratory assistant under Sir Humphrey Davy. His major
work was to wash the apparatus, make them available for use, and pack
them back for storage. The young attendant was however curious to know
more. Not only would he do his job, he would also collect the notes
and read them on his own, yet he was not a student – nor did he go to
school. (While he was an apprentice with a book binder, he would wait
behind after work hours and read each book bound!) After fifteen years
of self-education, he had garnered so much knowledge that he succeeded
Davy. Then he got a patent for his first invention, the dynamo.
 Cake Man
Couldn't get enough, cake that is. Turned into one. Frosting for hair, chocolate for nails, double fudge layers in between chinny chin chin. Belly big, laugh one more. Piece that is. No such thing as left over under. Cake. Could hide but the nose nose. No such thing as saving for Aunt Bertha or any other ant or person who might enjoy some. Sugar. Disposal. Not enough hugs just cake. One more. Please. Only.
LOST BUT FOUND LOVE
Tears rolled down Jane's cheeks as she stared at the framed picture on her bed stand. It was ten in the morning and she was still in bed. She'd been awake for an hour, but she wasn't ready to face the day. She's been living like this since the news of the boat mishap which supposedly claimed Steve's life was published in the Washington Post one week ago. She'd wake up every morning and just stare at the picture she and Steve had taken on the afternoon they visited the mall together for the first time. That was the last time they spent together before the boat mishap. As she stared at the picture, she continued to sob, letting the tears from her eyes trickle down her cheeks and soak up her pillow. So many memories flooded her mind as she stared at the picture: the afternoon she'd received the news about the mishap on the Potomac River, the search team that was launched, and the success the search team had in recovering the other bodies involved, which she didn't really see as success because Steve's was not among the bodies rescued. She thought about Sam, John and Philip and the way their unconscious bodies had looked when they were rescued from the river. She was eighteen years old and remembering the summer she and Steve had fallen in love; the summer she had a heart attack and how Steve had been by her side the entire time. Even though they'd only been seeing each other for a year, she felt as though Steve was the reason she was able to face the many challenges of her life. He was the reason she'd found strength to press on with her life after she lost her dad and her doctor told her she didn't have much time to live because of her heart condition. Every moment she spent with Steve made her feel that she could live longer than her doctor had predicted. Now that he was gone, she wondered whether she would be able to face life anymore. The strength to live was no longer in her and with the passage of each day she felt weaker and weaker. She continued to stare at the picture until she was interrupted by a knock on the door. Her mom poked her head in.
          "Breakfast is ready. I made you your favorite: pancakes with gravy." Jane didn't respond. She sat up on the bed and continued to stare at the picture. "Sweetie, are you crying again?" When Jane didn't answer, her mom crossed the room, sat beside her and gently clasped her hand. "Sweetie, you can't continue to live like this; no amount of tears is going to bring Steve back to life."
Opera San Jose's Madama Butterfly in Review
Holly Alexis Sisson, MA (consciousness studies)
Giacomo Puccini (1858-1924) was one of the finest Italian composers. During my pursuits to research, the forever academic, Opera and particularly this composition and the San Jose Opera, I was surprised to discover that with an ocean and a continent apart there was a direct connection between Milan and San Jose, California during Puccini's time. David Belasco, born in San Francisco, produced the play from which Puccini derived the opera. Belasco wrote, directed, produced, and acted in a number of plays just a few blocks from California Theatre in San Jose.
I was already mesmerized by the daydream fantasies I had of wringing my heart out at intermission and wearing those funny little flip opera-glasses, but this connection made it all the more enticing.
One of my mentors and teacher of indigenous knowledge and shamanic practices once said "the modern Western culture leaves no place in the music industry for the depth of emotions that help us process the story of being human except the Opera." Being my first opera show I was very excited to witness and participate in that depth of emotion.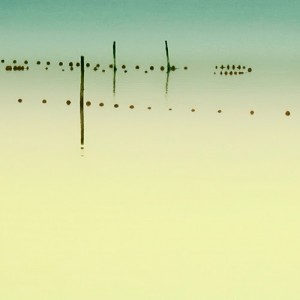 Pointilliste by Alain Vaissiere
dark rumble
in the cat's dilated eyes
our primal fear
the ice is cracking
under our blistered feet
great debacle
water under the bridge
the flow of days
between us
a wave for you
away from me
lost in the emerald sea
Originally published in Winamop, 2013.
(with Alain Vaissiere's kind permission)
  Review, Blue Skies Poetry, Turk's Head Review, Diogen Magazine, Literary Juice, Hothouse Magazine, The Bangalore Review, Creative Thresholds, Poems Underwater, Storyacious and Japanorama, among others.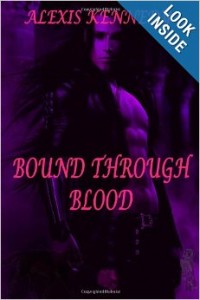 Bound through Blood is available for purchase here: http://www.amazon.com/Bound-Through-Blood-Alexis-Kennedy/dp/0615942202/
Amazon description: When Devin lost his true love to the 18th century witch trials, he thought he'd lost his only chance at ever having love and a mortal life again forever. But then the vampire tastes his true love's blood in another—her tenth generation great-granddaughter. Now, suddenly, that life is possible again, but only if he can convince Salena Saunders of their destiny. Fighting against the forces who want to protect her and the men who want to have her— including his own long-lost vampire brother, Gabriel— Devin struggles to get close enough to prove his love and intentions to Salena while protecting her from Gabriel and her own superstitions. Salena Saunders works as a tour guide in a New Orleans historical home—unraveling the past for tourists—when her own past begins to haunt her and mythical stories actually come to life right before her eyes. For the first time ever, she seeks guidance from fortunetellers and voodoo priestesses for answers—ones that both promise to shock her and guide her to true love and her destiny. Beyond the realm of mythical creatures and superstitions, as well as her very own cultural surroundings, Salena must come to terms with being Bound Through Blood.
Excerpt: Devin kept pace with the women; he'd been watching and following Salena all day. It had taken some time to locate her, but he'd finally found her scent when he flew, as a black hawk, over the French Quarter. She had been walking out of a voodoo shop, with a look of deep concern on her beautiful face, when he caught her scent. It was her unmistakable alluring fragrance of honeysuckle and lavender.
The PROFIT Percent
Everyone is out to make money. More money. And more money. And if
you've put in some money already, then you're out to make a profit,
plain and simple.
Still, one often, if not frequently, makes profit but still doesn't
quite hit jackpot– or put another way, doesn't feel as comfortable as
his seemingly lesser competitor seemingly making lesser profit.
So that one is eventually made to ask, What matters most in an
enterprise? Is there more to a stable, sustainable franchise than
profit? How can one truly maximise profit?
To answer the questions and to have a feeling of self-accomplishment,
one often suggests numbers: the number of workers employed, of brands
marketed, of products and services offered. Yet, as experience
(eventually) shows, to keep a business running one needs profit more
than numbers– and a certain type of profit at that.
It is (forgivable) conventional wisdom to say that one's profits
increase with the numbers, but is this really true? And more
significantly, Is the increase in profit commensurate with (or worthy
of) the increase in numbers– with the consequent more salaries and
higher cost of maintenance?
To answer these curiosities, I share the following scenarios with you.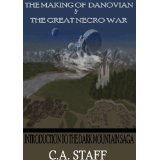 Cover made by Carol's son. Book available here: http://www.amazon.com/The-Making-Danovian-Great-Necro-ebook/dp/B00IO0QPHU/
The Great Archer Army!
"Line Up! Nodrog boomed.
Sargeant Sej watched his favorite archer line his men up in perfect order.  Booming out orders seemed to be his specialty. As he watched, he thought back to the years of service Nodrog had diligently put in.  Always there, never complaining, perfect aim, and the men paid attention to that booming voice of his.  He was drawn back to the here and now, when Nodrog boomed out "Fire!"  The twang from thousands of bows announced the release of a swarm of arrows.
"Very good!" Nodrog complimented the men, as he paced the line of archers in front of him.
"Archers dismissed!"  His arm wave meant, go home, come back tomorrow. Little did sargeant Sej realise that Nodrog's mastery of the bow would be crucial in the Great Necro War in both their futures….
What I want…
I want to be mustered by the cool water of the fountain.
I want the stiff light of the sun over the round petals.
I want the pouty lips and red cheeks and your kiss.
I want all the life and universe I can obtain!
I want the sigh of the travel at the light speed.
I want the sameness of a Summer morning seed.
I want your jabbered whispers in the desert.
And I want to be FREE and eat life as a dessert.
mysterious feelings
I don't understand this colorful rainbow dust,
Neither the cool and truly bright fountain near it…
My search for their colors gave senseless end.
Without you, near them, my naked hands would be empty…
I found you near the true yellow, near the star's dust.
Sorbitol: the love with 60 % less calories!
The love you give: joy, condensed sun beams.
Pure commotion in front of innocence.
Can't survive, without your oval aureole…
Light inside of a cell, mysterious meiosis.
Heart captive of sound, the fountain of love…
Feelings, perfect definition, flight without wings.
Am I mad? Am I alive? Am I just dead?
Your eyes my fire? My eyes a fishhook?
Rui Carvalho is a software developer and writer from Lisbon, Portugal. He may be reached at ruiprcar@gmail.com 
Witnessed:
Mission and A St.
Yes, the light had turned green,
And Yes, the white-haired passenger
Was looking at something,
Pointing it out to
Her husband,
The driver,
Who tried to see
Where she was indicating
Instead of
Burning rubber