Greetings and Happy New Year to the readers of Synchronized Chaos Magazine. Many people make resolutions this time of year, to get in shape, lose weight, or save money. One other good resolution is to find balance, some sort of harmony among the different aspects of one's life.
This month's issue deals with different aspects of balance. Charlie Keys Bohem's narrator must stay steady while rock climbing and find footholds on new terrain, yet is able to appreciate a magnificent view.
John Grey's work touches on both interior and exterior life, with a physical storm that cements personal relationships and present day scenes suffused with cultural memory. Mike Cohen's abstract writing highlights the uniqueness of our existence and life situations by pointing out the rare mathematical probability that the conditions needed to bring us to any one moment would all occur.
Other contributors touch on the balances involved with social justice, the need to respect the value of each of us as individuals and to build a society that provides opportunities for all.
Laura Kaminski's poetry relates experiences from her youth in Nigeria. Rich and full of images of running children, meals prepared for family and neighbors, water wells and swimming pools and prayer beads, the poetry also conveys everyday and transcendent spirituality. Faith of different sorts becomes integrated into daily life, a motivation for endurance, compassionate living and respect for life and our inherent dignity.
Christopher Bernard's piece, a modern day retelling of the Christian nativity story, also draws upon tradition and faith. His poem asserts that average people, rough around the edges, staying in a rundown motel are worthy of remembrance and part of something larger than themselves.
Tony Longshanks leTigre also contributes a short and poetic memorial piece for San Francisco tenants' rights activist Ted Gullicksen.
Hip hop artist Bink$ Win$ton brings us a music video of his new song 'Nickels, Dimes and Dubs,' a piece that thrusts the harshness of street life in our faces. It illustrates how the daily struggle for even small amounts of control and sustenance wears people down to the point where normal conversation and connection becomes difficult.
*video includes language and content for mature audiences*
Other writers illustrate the complicated mesh of factors that all go into the human psyche. Kahlil Crawford claims his personal identity and heritage as a writer within the African-American community of Chicago. He shares television shows, music and places that have shaped how he sees the world to give us a sense of who he is, someone whose writing and thoughts are informed by his past and his local and broader cultural milieu.
The poet who goes by the single name of 'Davis' describes a complex and painful relationship between the speaker and his mother. He didn't get along with her and feared her, but can't forget her. As with Kahlil Crawford, he's a mixture of his own thoughts and words and the influence of his past and heritage.
In his sixth monthly Play/Write column, author Ryan Hodge describes what mastering the game of Pokemon shows us about how we learn. Figuring out a new world, or system or language, involves starting with known information and then experimenting with the unknown, always teetering on the edge of our understanding.
Finally, in her monthly Book Periscope column, Elizabeth Hughes covers a variety of new books where characters escape or outwit peril and oppression. These include Erika Mitchell's North Korean suspense spy novel Bai Tide, Fulvio Ciano's techno thriller Digital Wilderness, and Grace Chen's historical romance Forget Me Not: A Love Story of the East, set during the Chinese Cultural Revolution.
Other books she discusses, such as Dr. Loretta Breuning's popular science guide to mammalian neurochemistry Meet Your Happy Chemicals and Linda Baron-Katz' children's book on understanding mental illness, Peter and Lisa, deal with navigating and understanding one's own mind in order to make our psyches more habitable and less oppressive places.
We hope that the life balance you reach this month enables you to have time to read our January issue. Our group of contributors may be smaller this time, but each piece is still thoughtfully crafted and offers material for consideration.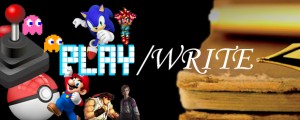 -Ryan J. Hodge
For someone who enjoys a great story, is there anything better than a narrative that engages you from the very start? Imagine a world so rich you can almost smell the scents in the air, a delivery so clever it forces you to think in a way you never thought you would. I'm Ryan J. Hodge, author, and I'd like to talk to you about…Video Games.
Yes, Video Games. Those series of 'bloops' and blinking lights that –at least a while ago- society had seemed to convince itself had no redeeming qualities whatsoever. In this article series, I'm going to discuss how Donkey Kong, Grand Theft Auto, Call of Duty and even Candy Crush can change the way we tell stories forever.
What Pokémon Teaches Us About Coming of Age Stories
'Coming of Age' or 'The Rite of Passage' is a staple in literature. Some of the most successful literary franchises have centered around a neophyte being thrust into a world that is equal parts incredible and terrifying. From Treasure Island to Harry Potter, there is a quintessential and visceral connection with the audience to be exploited with plot structures that amount to little more than just explaining how the 'world' works.
This genre, typically, is associated with teens and 'young adults', who (while perhaps not facing trials quite so fantastic) are learning in parallel with the characters how their own world works. Such stories allow an escape from the mundane daily routines of suburban living and imagine what it would be like to grow up in a place altogether more exciting.
It is little wonder, then, why Pokemon exploded in the mid-nineties and still commands a strong and loyal following even today. While, on the surface, Pokemon is a silly little game about battling monsters; its stories are coming of age tales at their core. In this series; players must explore, study, and experiment in order to reach the objective of becoming a 'Pokemon Master'.
The first element we'll address is exploration. One of the hallmarks of youth is discovering all that the world has to offer, including the dangerous and forbidden. The call to adventure, even ill-advised adventure, is a strong one. Take The Hobbit (J. R. R. Tolkien, 1937) for instance. The weakest element of the plot is, perhaps, the fact that Bilbo Baggins simply allows himself to become a part of the dwarves' adventure despite having no desire or qualifications that would predicate his inclusion. Yet, despite the many hardships that will befall him; not only he, but the audience, are determined to see the journey through. Conceivably, Mr. Baggins could have turned around and gone home at any point. Perhaps, in fact, that would have been the rational thing to do. But he simply must see what lies in wait at Mirkwood. He simply must see a dragon for himself.
Miracle in Red Bluff
By Christopher Bernard
"It's Christmas eve," the burly motel owner said.
"Nobody's got any rooms." "Damn all," said the man.
"It's all right, Jay," the wife, hardly a teen, replied,
looking at the owner. "Oh!" He, suddenly sheepish,
saw the problem: nine-months due,
the little body was swollen, a perfect sphere
at her tummy. "Well," he added reluctantly,
"we're not supposed to, but there is a corner
we sometimes rent in the garage. It's not legal,
you know, so we have to charge more…" "More?
Man! For a garage?" sputtered the man.
"We get to sleep on cement?" "No, there's a cot—
two cots, and blankets, a table, a utility sink,
and a ceiling light." It was snowing outside.
Jay cursed. "We'll take it," he grumbled. "Come on, Myra."
Myra exhaled. An hour later they were settled
in a cold room half hidden behind a row of cars
under a naked bulb. "If we weren't black,"
said Jay, "he'd've let us sleep in the lobby,
the white bast—!" "Jay, don't," said Myra.
"We've got a roof for the night." She heard the wind
blowing the snow down from Shasta's peak.
"Be thankful, Jay." "I'll be
damned first," he retorted. He pulled a cot
away from the wall. Myra lay very quiet on the other.
"You all right?" he asked. Myra had a scared look
on her face where she lay near the wall. She tried to
pull herself up. "Jay … Jay … oh … Jay ….
I think it … I think it's …" "Holy shit … Not here, not now…!"
A clutch of teens were passing a joint behind Sal's.
The snow was still falling, though lighter. "Hey man,
this stuff's so strong, I can see Santa coming
over Redding." "That's no Santa, that's a drone,
and he's comin' after yo' tight ass." The others giggled.
Suddenly someone appeared they didn't know.
He wore a dark raincoat, which didn't make much sense.
The boys stopped and stared. "It's a narc," one whispered.
"Or some transgender weirdo," another sneered.
It had the figure of a man but a woman's face,
it spoke softly but locked their eyes with its own:
each thought the figure looked at him alone.
"None of the above," it smiled. The boys
were suddenly frightened. "Don't be afraid. I have news.
Across the alley there's something you should see."
It pointed to a garage where a light was burning.
"Hey, it's late, man. And it's Christmas. I gotta get home."
"I bring glad tidings. Go. Look. What have you to lose?"
He looked benignantly at them. "Peace to you." Then he
seemed to disappear. They looked at each other.
"Man, that stuff is strong," one of them said.
But they went anyway to the garage. A black man and woman
looked up from a little black baby in a towel and a blanket,
and lying in the sink. From a hole in the wall came a sound
of pigeons, their heads looking down. A stray dog
sat nearby, a cat was curled up on the table,
staring silently at the infant,
who lay watching the boys curiously,
in the unfocused way babies have;
seeming to be wondering where he was.
The boys, still high, fell to their knees.
Sometime after, there was a knock,
and three old men, one with a beard,
one with a funny hat, the third with his fingers
covered with shining rings, came in. "I told you
I was right," said the one with the hat. "He's the one."
"How can you tell?" But the first was silent. The ringed
man nodded deeply to the mother. "Please excuse us.
We've come a long way to get here." Myra smiled shyly,
fatigued from the labor, uncertain, yet taking
these strange happenings as they came. The man removed his rings
and placed them near the baby, their brightness
glimmering like his eyes. "Why are you ….?" she asked,
astonished. The man shook his head and smiled.
The two other men also left small offerings—
the most precious items, it seemed, that they possessed:
a vial of cheap perfume, a handful of costume jewelry.
"We cannot stay," they said, then with a deep
bow to the child, they left. The man with the beard
said to the bewildered parents, "You do not know
who he is? It isn't for me to say … But you
will know," then departed.
"What are they
talking about?" said Jay. Myra wearily
shook her head, then took her newborn baby
who was at last beginning to cry, and opening her blouse,
let him feed greedily. Jay went outside—
the snow had stopped, the sky was deep, empty and clear—
and he looked up. The biggest star he had ever seen—
brighter than the moon on the brightest night of the year—
hung like a beacon, brilliant, straight and motionless, above him.
_____
Christopher Bernard is a novelist, poet, editor and journalist living in San Francisco. His books include the novel A Spy in the Ruins; a book of stories, In the American Night; and The Rose Shipwreck: Poems and Photographs. His novel Voyage to a Phantom City and a new collection of short fiction, Dangerous Stories for Boys, are scheduled for publication in 2015. He is co-editor of Caveat Lector (www.caveat-lector.org) and a regular contributor to Synchronized Chaos Magazine.
BINK$ WIN$TON is a new hip hop artist originally from Oakland, CA. His independent brand, Dolla Bill Entertainment, is also part of a larger media network of artists and producers (Cali House).
To date, BINK$ has released a debut EP (MANish), has been featured in MURDER DOG MAGAZINE'S 20th ANNIVERSARY EDITION (2014), placed as a TOP 5 finalist in Jack Daniels Honey/Atlantic Records sponsored Jack'N For Beats competition (2014), and has been featured on various projects and mixtapes from other underground artists, and djs.
Nickels Dimes & Dubs is the promo single from BINK$' upcoming EP "StartUp Money." More of BINK$ WIN$TON'S music, videos, and info can be found online through social media, iTunes, youtube, and hip hop blogs. Below is the link to his latest video:
Loaves and Fishes
At home, the cabinet was almost bare
I didn't think we had enough to share:
one loaf of unsliced bread made with palm oil—
orange-yellow, the shade of marigolds—
and one small tin of Geisha mackerel.
My parents gave all their money away
to others who needed it more than they;
they didn't keep enough to pay the price
at market for a chicken, yams, and rice—
at ten, I disapproved, thought them unwise.
We gathered bitter leaves of sweet roselle
to heat up with the bony mackerel—
we used a spatula to scrape the tin.
My father said grace before we began:
"For these and all our many blessings, thanks."
The simple stew surprised me with its taste—
it was delicious—and although I ate
all I could hold, used bread to sop the plate,
when we were done, the cook-pot still held more;
there was enough to store as leftovers.
NB: This poem was first published in the chapbook Returning to Awe (Balkan Press, 2014).
====
Failed Conversation with the Owner of the Rig
There is not enough water—
people are desperate with thirst.
They dig holes in the dried
surface of the river-bed, place
small plates and shallow
bowls into the mud beneath,
gather every bit of moisture
they are able, every drop
that seeps over the lip and leaks
into the vessel.
It does not help, it does not
quench their thirst to know
that down the road, less than
seven miles from where they
wait for water, there is a compound
with a gate, a deep well drilled
with equipment larger than
the handmade picks and shovels
they have at their disposal.
There is water plenty
behind that six-foot fence,
not just access to enough, but
madness-inducing excess,
so much that children raised
within that compound
have a pool, are given lessons
how to swim.
But isn't that reasonable? He
tries to justify the lessons to me.
If they can afford to fill a pool
and teach their kids to swim,
then let them. They are parents.
Isn't it their responsibility to give
their children any education
that makes them more self-
sufficient, might protect them
in the future, might prevent
their accidental death by
drowning?
But what of other parents
beyond the fence? I ask—
What of their children, the ones
who are dying right now
of dehydration? Wouldn't it be
better to share the water, help
them, use that huge equipment,
dig more wells?
And then the answer comes: It's
not my responsibility, it's not
my problem. It's expensive to run
that equipment, you're not going
to see me spend that much of my
money digging wells for people
who aren't family.
My words have failed, my
knowledge—useless. I cannot
bring water. I cannot get us what
we need, even though I see enough
justice just beneath the surface
that everyone could drink.
=====
SAVE ME
Please take care of me, Anna.
There's a storm on the horizon,
as wild, as swirling, as primal as a Turner painting
Thunder's a certainty. Lightning more so.
It could bring rain or hail or even snow.
My current status is that of abject fear.
I can't just sit here, passing off the world
with my most blessed indifference.
when it's about to spin in some
uncontrollable vortex, turn upside down.
bluster tempestuously, burn and flood,
shatter or smother.
I'll be King Lear before all this is over,
out in the midst of it, howling madly.
Look, my face is pale, my brow, my cheeks,
crunch my eyes together.
The blanket across my knees shakes.
My knees thump like braking train-cars.
And all you can do is ask, "Is something wrong?"
When the storm's passed, then I'll know.
Mamma
Goddamn jack in the box
face popping up with that clown smile
bloody bloody
I pressed you down so long.
smile again like you did when I told you stories,
little boys who fought
monsters not mothers. I pushed you out
now I push you down.
Pouts of lips and the swings in my hits
That's mamma, the one with the boy toys,
the one who plays with knives,
who left cuts on your hands like kisses.
The last man took me away
to the cabin with the bed and only the bed.
There wasn't room for three, boy.
We downsized, started with the baby.
He cried so much when I held him I had to
Don't say I failed again,
I taught you what I knew.
Protect yourself.
I shot you down
with milk can guns, white whirled.
I shelled you with beans,
dragging you along til you lost me.
I climbed up on a ledge above a house built into the crumbling granite of a California mountain,
with a few friends,
To collect a ration from my allotment of teenage infinity,
My feet sank into the powdered dirt of undeveloped land, carrying a cascade of biting oak leaves,
A charging cavalry into my ankles,
I clutched a fence as though it hung a hundred feet up,
Until we reached the precarious solace of concrete, and sat to soak in the wash of lights,
Little clouds, little but thick, came roaring on my left, an in a moment tapered from me, until the
Toxic cleavage of brain from boy welled up through my neck so that elevation became flight,
Clouds under a cloudless sky – not smoke, but vapor – that's the future below us,
A hand upon a shoulder, a laugh against a wall, lightless hills shining with black absence,
And below them the patchwork yellow quilt of iridescent distance,
I thought of the light: "There's an awful lot of sodium down there. If I had it all, a rock, I would throw it into the sea and duck behind thick Plexiglas, five thousand feed above the world, to watch the howling blast in all its brevity."
Peter & Lisa: A Mental Illness Children's Story by Linda Baron-Katz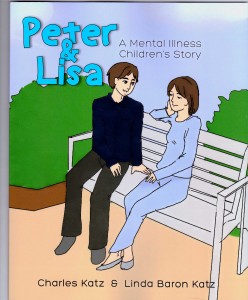 Peter & Lisa is written very well so that children will be able to understand it. I believe all children should either read or have it read to them. I believe it would go far in helping children understand mental illness. The more aware they are, the less likely they will be to say or do something to hurt someone else. I very highly recommend this book for all parents with children or know someone with children.
Peter and Lisa is available for purchase on Amazon here: http://www.amazon.com/Peter-Lisa-Charles-Katz/dp/1634171438/
Bai Tide by Erika Mitchell
(Book will come out April 2015, cover image not yet available)
Author's website here: http://www.erika-mitchell.com/novels/bai-tide/
Bai Tide is an espionage thriller. If espionage thrillers are your favorites even if they are not. I highly recommend this on. It is about Bai Hsu, who is working undercover in an elite, exclusive girls school as a P.E. Teacher, Alan Broccoli. His assignment is to keep the daughter's of a North Korean who came to the US to give nuclear secrets to the US in exchange for asylum safe. During the formal ball, someone tries to break into the school. Hsu takes off after the person, almost gets killed by a car rigged to blow up and loses the person. The next time the person shows up at a tournament the girls are playing in and one of them is kidnapped. Hsu chases after them, saves the girl and captures the person who kidnapped her. He takes her to headquarters in Los Angeles where a deal is made that if she helps to dismantle the nuclear plant, she will win her freedom. Read Bai Tide today and find out the dangerous mission that Bai and Cindy embark on. I personally loved this book. Happy Reading.
Meet Your Happy Chemicals by Dr. Loretta Breuning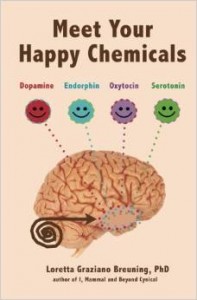 Meet Your Happy Chemicals is a very interesting book on how our complicated brain works to produce our "feel good" senses. Dr. Breuning explains what all of the "happy chemicals" do and how they work. This book is very interesting. I am sure you will enjoy it as much as I have. Also read her other book I,Mammal which also explains the complexities of the brain and how it compares to humans and how animals respond to the same chemical in the brain.
You may purchase Meet Your Happy Chemicals on Amazon here: http://www.amazon.com/Meet-Your-Happy-Chemicals-Endorphin/dp/1941959016/ or through the author's website http://www.innermammalinstitute.org
Any Psalm You Want by Khary Jackson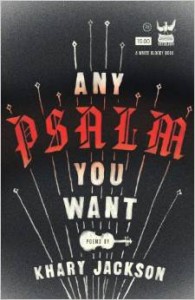 This book is filled with very heartfelt and deep poems. My favorites are Blue/Grass, Don't Bother Writing It Down, Abandoned House, Hip Hop Yoga, Her and From Antonio. This is a must have for the poetry lovers out there. For those who don't usually read poetry, give it a try. I am sure you will enjoy this book as much as I did. I highly recommend it.
Any Psalm You Want is available for purchase here on Amazon: http://www.amazon.com/Any-Psalm-You-Want-Poems/dp/1938912225
 Forget Me Not: A Love Story of the East by Grace Chen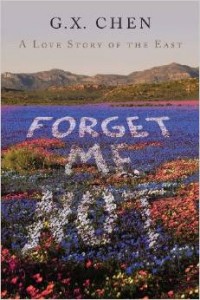 Oh, what a wonderful and sad book Forget Me Not is! It is the love story of Li Ling and Zhang Lily. A love that could never be. The story opens as Li Ling gets a letter from his good friend in China, Big Head. Then he sits down and tells his wife the story of himself, Big Head and Zhang Lily. It takes place mainly in the 60's and 70's during the Cultural Revolution in China. The government closed down the schools and labelled the teachers and also some doctors as counter-revolutionary agents. Li Ling's father is a well known surgeon and gets demoted to janitor. Lily's father is a professor and has written books on China's history. He was taken from his family and arrested. When Lily's father becomes very ill and needs surgery, Li Ling's father is allowed to do the surgery.  The three kids, help Lily's father escape from the hospital, where they take him to Big Head's aunt and uncle's in the country.
After a change comes to China and schools are opened again. Lily's father receives a letter stating he is being offered a position as a professor at Anhui University. However, after they move, they soon find out it was a trap and he is arrested. He then uses his shoe laces and hangs himself in prison. Lily and her mother suffer for some years working the fields for long hours every day. Li Ling and Lily meet up once again when the colleges open up once again. They fall back in love, but, Lily tells Li Ling that she could never marry him. Buy the book today and find out the many adventures they have and how they cope with the hardships of living under the communist Chinese government. I very highly recommend this book. It will keep your attention page after page until the very end. I absolutely loved this book. Happy Reading!
Forget Me Not: A Love Story of the East is available for purchase on Amazon here: http://www.amazon.com/Forget-Me-Not-Love-Story/dp/1625108478/
Digital Wilderness by Fulvio Ciano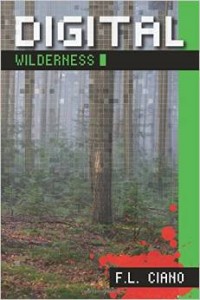 Digital Wilderness is a must have for the suspense lovers library. It is fast paced and will keep the reader on the edge of your seat until the very last page. It is about Edward Phillips a software engineer that works at Virton Tecnologies. He gets recruited to work in their top secret facility. Working there he must have an implant and wear a PEN, a device that allows communication between employees and also has various stages of clearance for different parts of the company. Then as Edward is sitting drinking his coffee at Starbucks one day, he is contacted by NOC, an artificial intelligence that he helped to create. NOC tells him he is in imminent danger and that several employees have already "disappeared" or have been found dead by different methods. NOC devises an elaborate plan for Edward's escape and hiding from Virton Technologies. Buy Digital Willderness today and find out what happens with this exciting and thrilling suspense novel. I highly
recommend this book, I absolutely love it. Happy Reading!!
A Short Eulogy for Ted Gullicksen
There goes the man on his bike
61 years old & looking for squats
down the hill on his bike, there he goes
the best of us
(though not the last of us)
the uncrowned king
the soul of SF
for the last time
wish I'd known
have a safe ride home.
Where I'm from is a young black artist narrating, to me, the pain of our streets on a bright, sunny, afternoon on 53rd..
..as I walk East past the Islamic barbershop
("need to get a fade-on"), but not 'til Friday after school ("for that Dem Dare party").
Where I'm from is Cosby Show 7PM Thursday nights at The Racquetball Club on 47th; where Black professionals congregate to view their reality on TV, in sitcom format, for the very first time in U.S. history.
Where I'm from is protesting (and organizing) against my Jesuit Catholic high  school's issue with my longer-than-most curly locks falling around my crown (I won that fight)..
It's listening to as much Hip-Hop as humanly possible between classes before studying Maya Angelou, Malcolm X, Ken Kesey, and Cambodia's killing fields..
It's organizing Kwanzaa celebrations..
It's segregated lunchtables..
It's "going up to Kenwood" after school..
It's Bugle Boy, Girbaud, Eddie Bauer..
It's Deep House Versace haircuts, hoop earrings, kilts, and combat boots..
It's Farley, Terry Hunter, Twilite Tone, X-Ray, etc..
Where I'm from is the afterburn of 60's Civil Rights & 70's Black Power; 80's Reaganomics, 90's Consciousness, and 2000's Tech Revolution..this is who I am.
BEGINNER'S LUCK
(Mike Cohen – Apr  2007)  
If your parents had waited another day
or another moment,
there could have been a different child born.
The egg might have been the same
but the race of the sperm
would most likely have crowned a different champion.
The sperm run is chaotic.
It is a shuffling of the deck,
a chance for chance to reset itself.
There is sufficient Brownian motion involved
that victory does not necessarily go to the fleetest.
Life begins always with an element of the capriciousness
that characterizes it throughout.
But were life predictable,
it would not be worth its own while.
Life is full for being full of choices,
conscious and unconscious,
whose outcomes cannot be clearly foreseen,
small choices that make great unknowable differences,
choices made with scarcely a thought,
choices like waiting another day
or another moment.