Many people have just celebrated Samhain, Halloween, Day of the Dead or All Souls' Day, when we contemplate the mysteries of life and death and remember those who have gone before us.
This month's contributions bring to mind different aspects of the life cycle. A recent San Francisco production of French dramatist Fabrice Melquiot's absurdist play The Unheard-Of World, reviewed here by Christopher Bernard, consists of interactions among fanciful characters whose identities play with the concept of time and mortality: a child who chooses annihilation over birth, a woman desperate to conceive, a man with a supernaturally long life span.
Huck Shelf's short story reflects on the possibilities of childhood, the courage it can take to follow one's imagination and how we can fear what we don't understand. Kathy Montoya's artwork, created to illustrate Melissa Heye's children's book Fearless Beans, shows a small dog growing up and heading off to doggie daycare for the first time. In this case the young character, rather than the parents, faces fear of the unknown, but overcomes it and enjoys his experience. Ryan Hodge, in his monthly Play/Write column, suggests that authors can create more realistic child characters by showing the children learning from others rather than having to make them completely independent from the beginning.
Maria Evans writes of learning experiences common to many people throughout life: unrequited love, nostalgia on seeing a younger person's enthusiasm, finding and questioning one's talents and creative abilities. She also remarks through her two final poems on our capacity for both great compassion and horrifying cruelty.
Joan Beebe communicates the fun of Western celebrations of Halloween, where children visit neighbors trick-or-treating in costume for candy. Her other pieces reflect explicitly on time, encouraging readers to remember to make the most of the holidays and commenting on how much, paradoxically, young children and old people have in common.
Adelayok Adeleye excoriates Nigerian officials for the rising fuel prices in his home country, bringing up a widespread concern: the cost of living.
Michael Robinson's poetic verse expresses the cost of living, and dying, in a different sense, through his sorrow over the death and despair he sees on the streets of the American inner city. Rather than impersonal statistics concerning violence, he shows us vignettes that bring home the humanity of those within that environment. A simple gift of a lily evokes the memory of children who will not grow up, the young son of an incarcerated woman misses his mother, blood has replaced ladybugs on a preteen's arm.
Shawn Nacona Stroud memorializes a friend who has passed away in one of his poems. Other pieces from him explore his creative process, the feelings of a Shakespearean witch, and the emotions brought up by a past intense relationship, reminiscent of being caught as a fish. He plays with language in ways more apparent to readers than in Robinson's intentionally spare prose, inviting people to enjoy the craft of his writing along with the natural settings he describes.
Julian Raine reaches deep into consciousness to create her pieces, lush and unvarnished by formal capitalization or punctuation as they evoke the intoxicating sensuality of the sun, dandelions, orchards, memory and love. Kahlil Crawford contributes an image of the Southern California city of Riverside at either dawn or dusk, a motel sign lit up against the street and assorted palm trees. The large sky over the scene and the angle of the photo seem to suggest a temporary stay, wanderlust, coming to the city from far away on a search for opportunities. Tempest Brew brings us small, crafted pieces that assert the speaker's personality and individuality. We see his small objects, notice what sets him apart since his teen years, hear his angst over love gone wrong, and watch him assert artistic control over his work.
J.D. DeHart also creates a set of short pieces that highlight various facets of life: our weaknesses, our motivations, our mild arguments, and our stubbornness when we've already made up our minds. He references an image from Greek mythology to illustrate the foolishness of adjusting the facts to fit one's opinions.
Dami Lare's short story about orphan children draws on cultural myths to convey the nebulous fear the children experience in a world where so much is shocking and beyond their control. When reality holds angry adults who confront them while selling food and accidents that send friends to the hospital, the existence of the scary Baba Yaga witch makes sense.
Adeolu Adesanya shows the power of words to invade and devastate people's psyches in a highly visceral, physical poem. It's not so easy to separate our minds and thoughts and language from our bodies and material lives.
Bruce Roberts considers this idea from another direction, as his poetic speaker gets captured, bound, pulverized and harpooned by literary monsters and pirates within the pages of his local library's offerings. And Elizabeth Hughes gives guidance to those seeking to donate books to help get kids interested in reading.
Although your introduction to Synchronized Chaos may be less dramatic than Roberts' poem, we hope that you will also find yourself captivated by this month's submissions.
My Flying Phase
    Since I was eight, I didn't make a big deal out of it. I was able to get snacks from the top shelf, and I could show off to my friends.
    The first person I told was my best friend, James.
    "No you can't!" he said. "That's impossible."
    "I totally can!" I yelled back.
    "Fine. Show me."
    I concentrated, willing myself to lift until my feet dangled above the playground floor. "There. See?"
    "Wow, that's cool."
    "Yup."
    "You're like a superhero! Anyways, wanna see my new Pokemon cards?"
    "Sure," I said.
I also showed Sarah. At first, she didn't believe me either.
I showed her the same way, floating down the sidewalk as we walked home.
She smiled. "It's like you're an alien!"
Black Boy Flowers
I brought my mother a lily yesterday,
She placed it on the dining room table,
And I wept—
For those I had seen die in the streets.
The lily opened to reveal its seeds
And I wept—
For each seed, there was a black boy that would not bloom.
Ocean Breeze
For Lorraine
The water is calm today.
Seagulls cry out in the wind.
I celebrate my life,
And I forget the violence.
The waves run across my feet.
As I watch the sunset and I smile.
My mother holds my hand and I'm born again.
(IN)COMPLETELY ABSURD
The Unheard of World
By Fabrice Melquiot
Translated by Michelle Haner
Exit Theater
San Francisco
A review by Christopher Bernard
Even with the best of intentions, to say nothing of energy, intelligence and talent, world premieres can be treacherous things. The premiere of an English translation of a modern French play can be more treacherous than most, given the great differences of premises and expectations between French and American audiences—including such things as their different senses of humor and attitudes toward philosophy, which can quickly become awkward in a philosophical comedy.
The latest production by one of San Francisco's most audacious companies, foolsFURY, which in October premiered, as part of its Contemporary French Plays Project, Michelle Haner's translation of Fabrice Melquiot's magical realist Le Monde inouï is a textbook case. (Melquiot is a prominent contemporary French playwright; foolsFURY produced The Devil on All Sides, in artistic director Ben Yalom's translation, to much acclaim in 2006.)
"The things I needed"
The things I needed
things you wouldn't give me
things I couldn't get from just a friend
Just forget them?
Leave them be?
Ignore that part of me is reaching and crying
And searching and dying
with every day you fail me.
But to get them from another
From someone who cannot give me The things I need that you can
and you do
it breaks my heart
each time I realize that I could, can get them
from somebody else
Reject it? When I need it? When my heart cries for it?
It tempts me to hate the other option "WHY YOU NOT HIM?"
why him not you
Not enough
no replacement
with one set of dreams
another dies
(more…)
Before the New Tariff
INCREASING the electricity tariff from the N16.11 per unit it is now, as has been announced in the news today, buried in the rubble
actually, would seem an acceptable idea until U consider how Nigeria works…
Whenever fuel, for example, becomes scarce or more expensive, the following happens: costs increase across board, and refuse to return
to baseline when the (fuel) crisis is resolved, or (fuel) price dropped.
In practical terms, when fuel becomes N97 from N87, fares that are N50 will become N100. U'll be asked if U live in a different Nigeria when
U protest the disproportion. And when fuel price drops back to N87, U'll be lucky to be ferried at N70, which becomes the new baseline for
the next crisis.
This is Nigeria!
Mining
First I shovel
words, crackling
like churned earth. Forage
deep for those riches
buried in my depths. Then,
sift out pronouns and adjectives
as if grit from oil—perpetually
clogging one's ingenuity.
Now shall I pan for imagery?
This nugget is a simile, here
a chunk of metaphor. Observe
how dense they both are
rising as they do
to the very top of my mind
when everything else simply sinks—
the clinks of dying lines
striking the bottom.
Their splendor is nearly blinding—
glimmers that speak of wealth and greed
and a need, always such a need
for something other. I've struck
gold—poem jazzing up
my page like pyrite.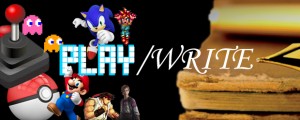 -Ryan J. Hodge
For someone who enjoys a great story, is there anything better than a narrative that engages you from the very start? Imagine a world so rich you can almost smell the scents in the air, a delivery so clever it forces you to think in a way you never thought you would. I'm Ryan J. Hodge, author, and I'd like to talk to you about…Video Games.
Yes, Video Games. Those series of 'bloops' and blinking lights that –at least a while ago- society had seemed to convince itself had no redeeming qualities whatsoever. In this article series, I'm going to discuss how Donkey Kong, Grand Theft Auto, Call of Duty and even Candy Crush can change the way we tell stories forever.
What Videogames Teach Us About Writing Child Characters
When we imagine the 'great' characters of fiction, they don't tend to be limited by class, race, or occupation. We can empathize just as much with the Corleones of the Godfather as we can with Kunta Kinte of Roots. And yet, there seems to be a strict '18 and over' age limit for these timeless characters.
While we might look upon films like The Goonies or Sandlot with fondness, it cannot seriously be said that these titles delivered stirring, powerful performances from their child stars on the order of Godfather or Roots. Indeed, for a distressing number of works, any story featuring children that aren't explicitly 'about' children have a tendency to turn in monotone and forgettable roles for their tykes.
This, of course, presents a vexing quandary for writers. Given that we were all children at some point; why does it appear to be so difficult to render at least a convincing portrayal of society's most vulnerable population? And, for that matter, what could videogames possibly offer to remedy this?
Quarreling
They say they are
quarreling, a quaint old
word, which surely must
be some kind of quilted,
ultra-polite argument,
old voices clashing lightly
like wooden swords
in a soft air, kindly slapping
at each other.
Boneless
Quivering mass, no spine
or limbs or life, no rigidity,
a flaccid creature
No structure, just a fluid
personality, sanguine,
agreement and resignation,
spelling weakness and streaming
event to event with a shrug.
Motivators
Prod, electric shock,
the odors of the lab
and scrubs
Buzz,
a salivating cavity,
churning lurching stomach
dissolving all triggers.
Procrustes
His weapon was the comfort
of a bed, a reclining
instrument of ending,
stretching or snipping
to make life fit the outline,
just like we jam our
thoughts into the heads
of others, just like we attack
with an ideology.
Zubayat
She tells me it will be alright, I nod my head thrice like I agree; but I know it's a lie, it would
not need to be alright if things were already alright, and if isn't alright, why should she think
it will be.
Salome you aren't a believer like me she says, I ask her what a believer means, she laughs in a
funny way, which makes me laugh too and tells me the story of Babayaga.
Babayaga is an old hag, an ugly Witch she says; she has big snakes for hairs and long thin
claws like Asa. She rides a broom and flies at night. She scares little children on their beds
and cooks those who become scared to eat or sometimes eat them raw, just for the fun of it;
with their limbs crunching like Iyaibo's chewing stick in her mouth.
"Ugly like her" I point towards a pito seller with long tribal marks.
She laughs loudly, shaking with tears rolling from her eyes. I do not laugh; I am too scared to
laugh.
WEAPONISED WORDS
©Adeolu Emmanuel Adesanya
Bleed a little you poisoned blood of mine
Into the abysmal valley of my conscience
So that the mixture of half lies and near truth
Can trickle into my heart and wreck fatal havoc.
Let in clammy skin and clutching palpitations
The sinus read a gory details of my troubled past
But take heed to omit the weaponised words
That deliver your pivotal part in the anarchy.
Move back a bit, you ignominious stabbing pain
Rather let the head tilt upward to ease off
On the damages done and certain betrayal
Else the goodness therein titrate with your venom.
How do I go about stopping your flow
Putting a lid on these diluted blood that circulates
Do I bleed out and dry to satisfy your deathly dares
Or simply breathe in long and hard to pacify your thirst.
Bio
An ardent poet and writer for the past 15 years, Adeolu Emmanuel Adesanya, the author of  poetry collection titled "Why Ask Why" obtained the degree of Bachelor of Education  from the prestigious University of Ibadan, Nigeria and Master of Science in Business Management from the University of Wales in Cardiff, and currently a doctoral candidate of the University of Wales. He is widely published in several international anthologies and journals.