The Pharaohs' Golden Parade event : new splendor after 3500 years
by Federico Wardal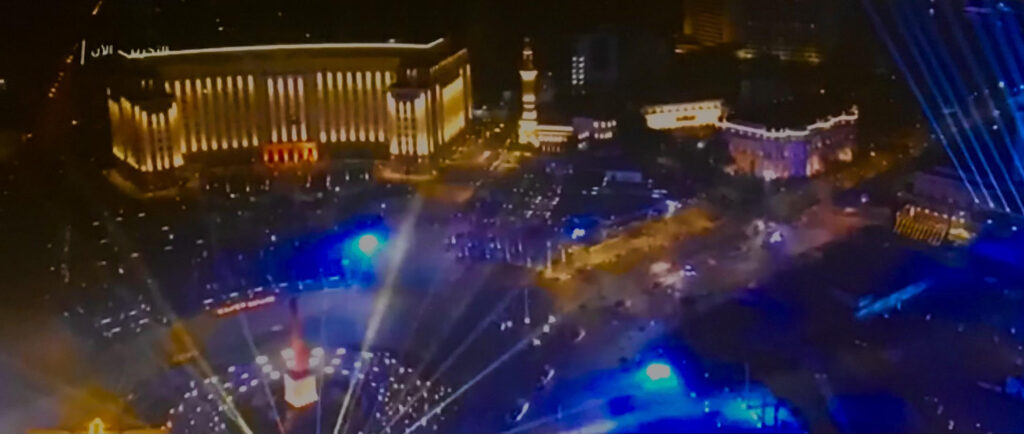 Cairo.  The Pharaohs' Golden Parade event, which I had the luck to see, is the most spectacular event at least of this millennium, even visible from space.  Powerful beacons of light projected into space and illuminated the center of a crowd of 20 million people in Cairo for ​​five miles.
This accompanied the passage of the mummies of 18 pharaohs and four queens from 3500 years ago (18th, 19th, 20th dynasty era) placed in spectacular hearses with immense beautiful processions with people in period clothes and singers who sang ancient songs.  
The glittering golden parade was channeled over a five-mile path, guarded left and right by guards in ancient uniforms, from the Egyptian Museum in the immense Taharir square to the National Museum of Egyptian Civilization, located in Old Cairo.
At the entrance to the museum, the Egyptian president H. E. Abdel Fattah Al-Sisi gave a welcome from modern Egypt to kings and queens who brought Egyptian civilization to the world. A very touching magical moment. The news caught the attention of the media and so it spread all over the planet, as the lighthouses of Cairo have reached the world. Everyone knows how the ancient Egyptian civilization, one of the most spectacular and advanced of the ancient world, was fascinated by the skies and galaxies and their scientific discoveries were amazing for their time.  
I find ancient Egyptian art beautiful and reflective of a culture with a high degree of wisdom and insight. The cult of the beyond, of life both before and after death, is predominant. Souls are based in eternity and find themselves in an endless circle of death and resurrection.
This is the profound meaning of the event: to pay homage to everything that the immense Egyptian civilization has created and continues to create. And this is certainly how this spectacular parade arrived, thanks to the strength of the love and respect with which it was made. It was a worthy tribute to the energy of the 22 royals, whose mummies, now, finally, have a home equipped with today's most sophisticated means of preservation.  
Prof. Zahi Hawass, legendary archaeologist and friend of mine, said in his major media appearances that this is an event that Egypt gives to the entire world and that calls the world to visit Egypt. But another fascinating event will occur soon: the inauguration of the Great Museum of Giza, the largest and most grandiose museum in the world. This museum, with its sophisticated and spectacular structure, will remain as one of the wonders of our planet, even as archaeological research continually advances, to offer us all beauty for our eyes.