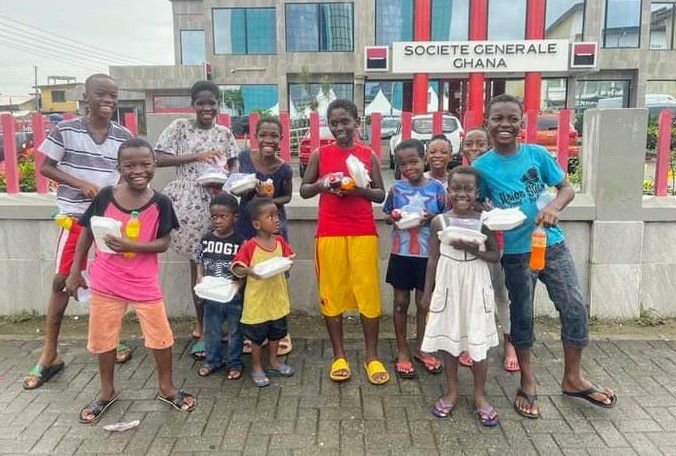 Maxx Orange Kitchen - MOK
MOK - Cooked With You & Radio Maxx 105.1 FM

MOK is simple abbreviation or acronym for the Maxx Orange Kitchen is the charitable initiative made possible by kind courtesy leadership and management of the Orange Broadcasting Brand - OBB, thus Radio Maxx 105.1 FM in Takoradi at the heart of the Western Region, Ghana.(West Africa). According to authentic information available, it's been fifteen (15) solid years of making this event worthy course to the young masses as a means of continuously feeding the less-privileged kids on the street of Takoradi in the south-western part of Ghana. 

Factually, before making this out-door program successful there's often Audio-Promo, Live Presenter Mention (LPM) and Announcement to the general public on Radio Maxx 105.1 FM to ensure donations of food items of all kinds such as bags of rice, chicken, soft drinks, canned or tin products, bottled as well as sachet mineral water and other edibles which go through cooking process then sharing to street kids in the city of Takoradi, Western Region, Ghana. It certain, some comes from the sister city of Sekondi and its environs to participate as well. 

MOK 2022 took place on the street of Liberation Road, close to Market Circle which is under re-construction in Takoradi. In the early hours of Easter Monday, 18th April,2022 - chairs, tables, canopy and public address sound system to ensure music playing as well as live monitoring of on-air programs by the organized media company, Radio Maxx 105.1 FM became available at the street-venue of MOK. There's loading and off-loading of food items donated by some cherished listeners of Radio Maxx 105.1 FM, precisely from the station's premises located at Essikafo-Ambentem No.2, close to Bethel Methodist Church in Takoradi, Western Region of Ghana.(West Africa). 

It's comely to catch glimpse of key voluntary support by the members of Mike Foundation as a youth-dominated Non-Governmental Organization (NGO) through their respectable cooperation to ensure success of the Maxx Orange Kitchen - MOK 2022. Certainly, some volunteers were chosen through directive and decision of the radio station's CEO, Sir Maxwell Okyere Ahenkorah, an expatriate of the United States of America.

MOK 2022 experienced unusual down-pour, thus intermittent drizzles and heavy rainy moments. Well, regardless of the boisterous nature of windy conditions, it didn't change the general atmosphere or it never stopped the event or attendees of both young and old folks to enjoy delicious cooked rice, stew and chicken as well fried fishes, meats and soft drinks served on the street blocked with barricades i.e.(Liberation Road) in Takoradi, Western Region of Ghana, West Africa. Interestingly, although the main purpose of Maxx Orange Kitchen - MOK is to feed kids of all walks of live on the street. It's realized many adults couldn't cope with the fact that only kids had to fill their bellies on such a festive season of Easter to their satisfactory merit. 

Hahaha, LOL! -  Hunger is there for old too! As I over-heard one woman say that emphatically to my ready-to-hear ears. Well, with respect to the target, it's meant to feed over Five Thousand (5000) street kids in the Sekondi/Takoradi metropolis, Western Region of Ghana, West Africa. On mind visual recollection and reflection, when boisterous winds set-in it's all hands on deck to hold canopies firm on ground to ensure stability and non-disastrous atmosphere as electrical equipments also needy safety to avoid accidental occurrence of fire out-break at the scene.

MOK 2022, had the following industrious leaders and staff-body of Radio Maxx 105.1 FM playing vital roles at the out-door venue on Liberation Road in Takoradi, Ghana. Indeed, the mastermind CEO as well the Boss, Sir Maxwell Okyere Ahenkorah, being quite instrumental in bringing the cooked rice, stew, fried chicken, fishes, meats and take-away packs to the street-venue. Better-still, he also did very well during collection of donation and compilation of the donor's and sponsors details as well as particulars. Also, he being part of the packing of food items at his office and other rooms of the radio station is quite memorable and shows the quality of a leader, leading by example in terms of event organizing.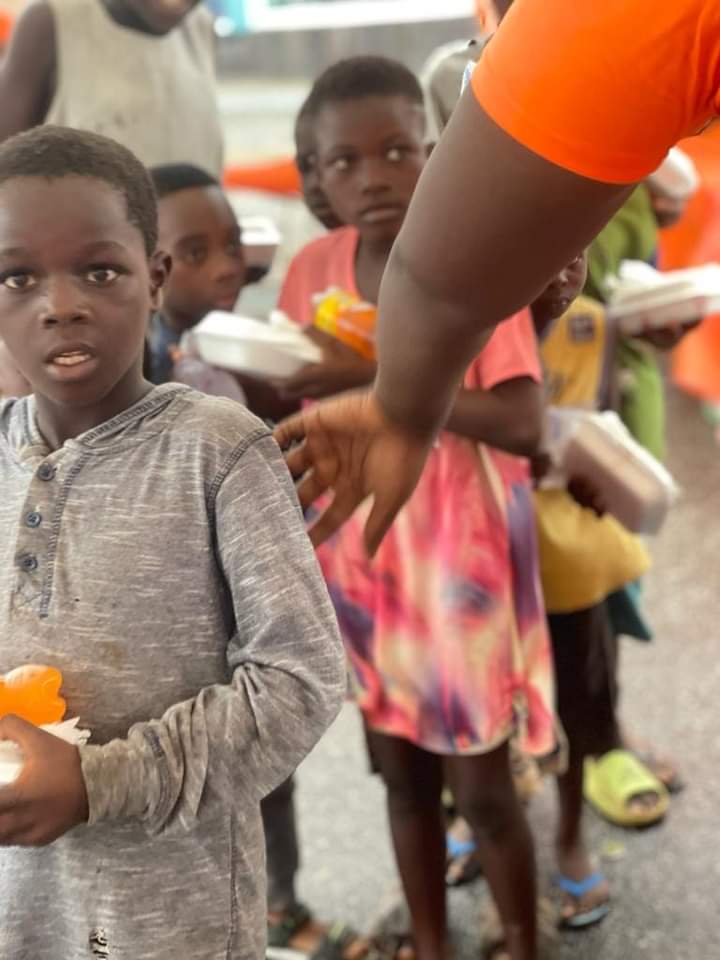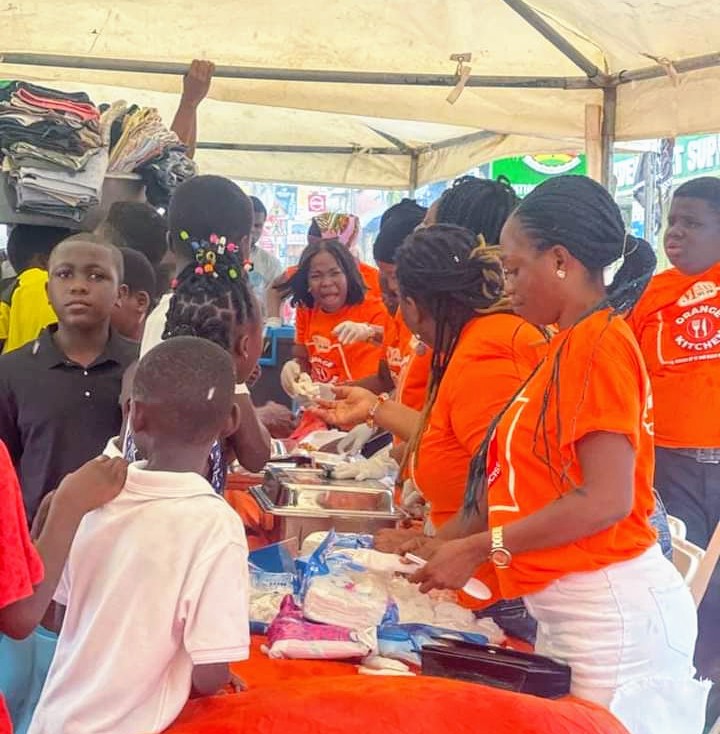 More-so, next to give a worthy mention is the General Manager of Radio Maxx 105.1 FM, popularly known as Mantse, a church leader Reverend Alexander Nii Sackey, host of early morning devotional program dubbed Maxx Morning Bells - MMB. Indeed, this man has been so committed to the Orange Broadcasting Brand - OBB since its early years as well as movement from different geographical locations within its catchment areas of Takoradi and beyond. 

To be precise, he helped to convey soft drinks, bottled and sachet water from the station's premises to the street-venue, aside breaking of ice blocks to freeze the drinks in the refrigerators meant for the Maxx Orange Kitchen (MOK 2022). Amongst other things, he also supervised the happenings and made reasonable decisions in the absence of the CEO Sir Maxwell Okyere Ahenkorah, when the going got tough on the street-venue of event. The on-air presenter of the mid-morning show Maxx Metro Mix (MMM) as well marketing executive, Sir Harold Ewusi also contributed well to and fro in relation to the needed items and other equipments at the station's premises and street-venue. The likes of DJ Asabir, DJ Mike G and Ebo Smith were also solid to ensure music playing and sound technical assistance on the street-venue. Of course, it's scene of all hands on deck so Ayatullah Abass (Kendrick) on-air presenter of Maxx Over-Drive (MOD) fame also did well as he later went to do presentation on the radio. 

Some female staff were seen round including Bettina Sweetie Doie, as she also did well with the serving, loading and off-loading of food items, alongside the technician Sir Sylvester and Angel…… It's obvious Sir Philip Ampofo, who's hosted me and promoted Synchronized Chaos Magazine a couple of times as Anchor of the Joy 99.7 FM - Super Morning Show (SMS) also contributed directly and indirectly to bring about ultimate success of the Maxx Orange Kitchen (MOK 2022). 

Also, not forgetting Sir Henry Aggrey (MC Clenzy), and Mr.Gabi Ampiah of Sunday Evening Gospel Train, they all did brilliantly well behind the scenes as well as ensuring LPM of the donations made possible by audience of the Orange Broadcasting Brand - OBB, Radio Maxx 105.1 FM (Magic Music Station - MMS). Notwithstanding, some members of staff were not present at the street-venue of the event but they also contributed effectively to this year's Maxx Orange Kitchen - MOK.

MOK 2022 had contribution of items and donation of cash from the following companies and benevolent individuals: Akroma Plaza Hotel, TICO, Raybow International Hotel, Ghana Water Company Limited, Jomra Electricals, One King Mineral Water, Philnock Enterprise, Voltic Cool Pack, Agwils Enterprise (Inchaban), 1st Gate Supermarket (Kojokrom), Elok Jewelry, Nana Yaw Pinto, Eagle Nest, National Investment Bank - NIB, Zenith Bank, First Samuel Enterprise, Red Run Pizza, Sally's Akwaaba Boutique, Mr. Godfred Teledzi, Miss Chima Obi, Aniyak Guest House, NPP Loyals, Ghana Police Service, Sekondi-Takoradi Metropolitan Assembly - STMA, Maa Anita (EcoBank) and all anonymous donors. 

However, not forgetting generous heart of another VIP media figure, Mr.Kwame Adu-Mantey - CEO of Focus 1 Media, he also donated tremendously to support such a worthy course of Maxx Orange Kitchen (MOK 2022).

Well, as a writer of this Arti-Blog what I also did was new English audio-promo for the Maxx Orange Kitchen - MOK as part of on-air publicity apart from the creative poetic piece which stated MOK in the last stanza, dubbed Two Decades Of Orange Enjoyment #2DOE. It's a means to promote the MOK 2022 as well s 20th Anniversary Celebration slated to take-place on 5th November, 2022. Better-still, physically I also assisted during loading and off-loading of donor's products t the station's premises and street-venue of MOK respectively. More-so, airing of the processes and procedures to donate on Sunday Evening program Gospel Train as a Guest-Panelist, thus it's also effective to the glory of God and humanity. Nevertheless, the rains which occurred might have associated with divinity as a means of our Creator's showers of blessings upon us being conscious generous care-givers in the society of poverty-stricken people.

As Maxx Orange Kitchen - MOK is annual charitable event to kids on the street, and then you're welcome to partner with us via Call or WhatsApp the following Numbers:   +233207174878, +233243445144, and +233243734791

Thanks for taking time to read.

Name: Ike Boat
Email: ikeboatofficial@gmail.com 
Call/WhatsApp: +233 267117700, +233 552477676 
Facebook Page: www.facebook.com/ikeboatofficial1 
Country: Ghana, West Africa.