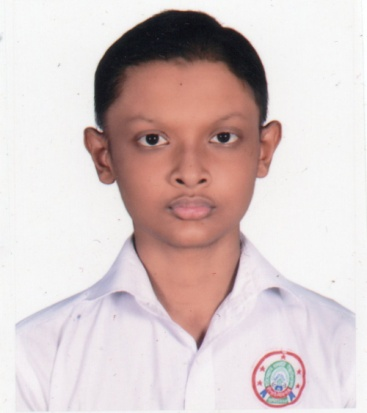 THE THREAT OF SCIENCE

HI GUYS MY NAME IS FAHIM AND I AM FROM FUTURE ITS ABOUT 2050 YEARS. NOW I WANT TO TELL YOU ABOUT A THREAT THAT COMES IN 2030 BY A STORY.
SO LETS BEGIN.

IT might be 20 February, 2030. The situation is very warming and dangerous here in Bangladesh because suddenly the government of this country made some weird rules like, every citizen under the age of 15 to 50 has to do a 6 month army training. We don't know why it happens but we can realize something will happen wrong.

A boy named Rajib is also like other student and he is in class nine. His father is a business man and mother is a housewife and he has 2 younger brothers named Rakib and Rony.
By the way Rajib and his friend Taronno, Mossabirul, Asik, Soikot sand Sabkat already completed their army training and they are the first batch from Chapai Nawabganj.

So like every morning, it was normal. Rajib's father went to a business trip and in the morning his mother went to his grand parents' house with his brothers. So Rajib was alone. Like a normal day Rajib went to his coaching and met his friends. The coaching was at 10'0 clock but they all placed to coaching at 9:30. But suddenly they
 felt the roads and the city became quiet but they avoid it and started gossiping. 

After a few times that was 10:15 but their teacher did not come. Suddenly they could hear some sound of firing bullets but that was normal in that day. They thought that the army training was started in the Government College. But after sometimes They heard some
screaming and that time we took it serious. They send Taronno to check this out. After a moment Taronno ran to our room and lock the door. Our class room is on the  2nd floor.

He was scared and taking breath very quickly. After some time -

ASIK: What happen Taronno?
Mossabirul: why are you so scared?
Taronno: Zombie! Zombie!
Sojol: What is Zombie? Is it the name of your girl friend, ha ha!!
Rajib: Stop Sojol! What is Zombie Taronno?
Taronno: Zombie is a name of a human maid hybrid virus. It can control human brain and make them a animal and a dead man. It can be spread and infected by biting and scrating a normal person.
Sojol: Are you drunk? This is real life, ok?
Taronno? Ok.. so you can check.

At this moment someone was knocking at our door but that time they were careful and trying to see through a crack on the door. They saw two people are wearing army
 dresses and they had weapons but they were not looking alive.

Taronno: Zombie! they are Zombie. Do you have any doubt?
Rajib: But what will we do now?  We are trapped!!!
Suddenly the Taronno and Sojol started quarrelling between them and because of a push to Sojol, Sojol hit to the door and the door opened!

Rajib: Stay careful!!
The Zombies are trying to bite. But suddenly Asik and Rajib broke two legs of a bench and hit to the 2 Zombies and boom! Zombies were falling to the floor. After searching two Zombies body they got 2 AK-47 and 2 GLOCK-16 and 2 pocket knife.

There are 30 boys and trained boys are around 6 to 10 and we have weapons 6 that was difficult to survive.
They were here for around 4 hours and after 4 hours they decided to escape to new place because they all were feeling thirsty and hungry. They have around 4 round of AK- 47 and 6 round of GLOCK-16 ammo. First Rajib and Asik goes with AK-47 then 20 boys
and Mosabirul and Taronno with GLOCK-16.

The first 5 minutes are normal but after five minutes 10 Zombies attacked on them and the army was imbalanced but Asik and Rajib killed all the Zombie because they were well trained. But the worst part, the 10 Zombies are their teachers of their coaching center.

Some boys were crying for their parents. Suddenly Rajib got a plan and take off all the phones from Zombie bodies. After sometimes they heard something from a room beside the office. Mossabir and Rajib knocked at the door but nothing happened. At that time Asik broke the door to kill the door but they saw their girls batch mate in this room. They are about 20.

So they blocked all the doors and killed all the Zombies that were in the coaching. But the main thing is that how to survive in this situation and who will be the leader of this team because it is impossible to survive without any leader. After doing vote they decided to make Rajib the team leader.

On the other side, the 50 people were hungry and they did not have any food. So they searched and planned that they could get food from the nearest stall but the stall was closed and they have to fight with a army of Zombie. After the fight they had only 2 round and 5 round of bullets and 2 pocket knife. First day they slept without food in the class room. But another day Rajib cleaned the garden and made a team of warriors - means they will fight and kill against Zombies. In this army they are 20 groups of 30 boys and
there are 5 girls. Asik and Taronno gave them basic training but they didn't have weapons so they couldn't fight. Now all are hungry and it's time to combat.

First Taronno can understand that Zombies are blind and they can chase by sound and it was their master stirike. They make a team of 6 members. Rajib, Asik, Sabkat, Soikot, Mossabirul and Sojol. The plan was that Soikot and Mosabirul will give them defend
with ak and a glock 16. And  Rajib, Sojol and Sabkat will go to the store and they will spread gallium to the lock and lock will be disappeared. Everything was like the plan.

They took ice-cream, chocolate, protein bar, chips, Gas liter, peanut, butter etc. products. But when they are on the way to go Sojol made a sound by fart. In this moment some guys are laughing and suddenly the Zombies are activated and running to attack us. We ran with the product and Soikot and Mosabirul were firing bullets to Zombies but unfortunately a bullet hit to Sabkat's neck and he fell down but Rajib shot to Zombies and took Sabkat on his shoulder and ran away. "Please, Rajib, throw me if you don't we both will die", Sabkat said.

But Rajib ran through and succeeded to go to the coaching and they locked the main steel gate of the coaching garden. Now everyone can eat foods but Sabkat was injured and Rajib said to
the girls team Rajib; Who knows to treat Sabkat?

A girl named Boishaly said, "I know" and she was appointed to treat.
But the fun fact is that Rajib had already crush on Boishaly so commonly he went to Sabkat to see Boishaly and talked to her--

Sabkat: What happens my brother you visit me very often.
Rajin: Nothing bro I am just worrying about you.
Sabkat: I know everything, you naughty boyyyy.
Rajib: No nothing (giggles)

On the other hand they decided to shift to the Harimohan School and that was about 100 meters far from their coaching but that was so hard to do.
 After 2 days the food and recourses are about to finish and they have limited ammo so they have to change this place because in the Harimohan there are so many rooms and a big field for farming and some fruit trees.

But at the road they can see a police car if they can steal the car they can go to Harimohan at one ride and they can have some ammo and weapons. Asik, Mossabirul, Soikot went to the car and successfully stole the car. In this car they got 3 rifles, 2 ak 47 and 4 revolvers. They got total 30 rounds of ammo. Now it's time to play with danger.
The driver was Asik and Rajib, Mosabirul, Soikot were defenders and for first batch they took 15 girls and 15 boys in a police van. They started the journey. They killed some Zombies but nothing happen bad but on the other ride a Zombie entered in the van and bite one of
his friend Antor. So when they were in school they locked the door and parked the van.

First 6 warrior members entered and cleaned the school, they also had some bikes on the school stand. Everything was good and Sabkat was cured but Boishaly would often meet Rajib and they felt some attraction to each other. "But it is not the right time", Rajib said.

After 2 days Antor was ill and they had gone to the nearest police station to search a radio mobile and some weapons. So they made a team of 12 members and Boishaly was also there because of medical needs. They don't want to take Antor but they have to.

They went to the police station and took all recourses from here but suddenly Rajib noticed that Antor was behaving like a Zombie but it was too late Antor attacked Boishaly and bite her. Rajib killed Antor with a heavy hurt and he saw Boishaly was also infected. He cried there and told Boishaly to go and sit in the van. But Boishaly said, "No Rajib, I have to sacrifice" and ran to a weapon a suicide with one bullet shot on her head and she died. Rajib didn't want to come from here but Asik pulled him back. He went to school base and gave the radio mobile to Soikot and told him to try to connect.

There was going good - a batch was farming , a batch was cooking and so more works. But Rajib is not happy. After 1 month Soikot was successful to connect to the nearby army base and they said they will send a helicopter to save them. Now everyone can talk to their
parents. Rajib's  father is alive in the USA but his brother and mother is died by the virus.

Rajib is no more Rajib. Now he is predator and heartless person. One of his friends went outside the gate for fun but a Zombie bite him and he came to base. Rajib saw that and put a gun on his head and boom he killed him. He doesn't have any sympathy for anyone.

Finally the helicopter came and threw a rope. Asik and Rajib were helping others to climb the rope but because of the sound of helicopter the Zombies were activated and attacked one of them. Rajib climbed up but when Asik was trying to climb up some Zombies
attacked on him and caught him. The Zombies were pulling Asik but Asik did not want to leave the rope from his hand. Because of pulling the helicopter, he became unstable. So Rajib took gas pistol and took aim on the head of Asik. Asik said no bro but Rajib shot him and he died but Rajib was normal, he had no feelings and they could go to the army base.

After six months everything became normal but so many people were died for that. Rajib could know that the virus is made by three scientists and they are in the USA.

After few months Asik went to USA for higher education.
But after 2 months the scientists are killed by someone. But the question is who killed them?
But now Rajib has no more feelings for anyone. 


Fahim is a student of grade 7 in Harimohan Government High School, Chapainawabganj, Bangladesh.