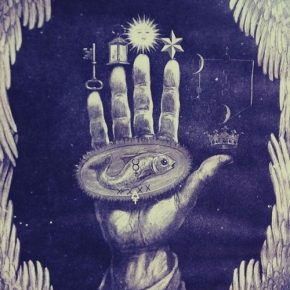 Welcome to June's issue of Synchronized Chaos Magazine. These selections explore metamorphosis: what sorts of changes people can go through, when and why we change, what inspires us to change, what sorts of changes nd losses get forced on us, and when and why we can be afraid of change.
Humans are complex, capable of a wide range of feelings and actions that may seem contradictory at first glance.
Some of this month's narrators aren't sure whether they care about their fellow creatures, although the entirety of their writing belies their surface lack of empathy.
JD DeHart's poetic speakers seem thoughtful curmudgeons, yet with a soft spot for fellow writers. John Robbins gives us poems of disdain, with their grumpiness relieved by the speakers' finding a sense of connection to fellow literary 'pirates.'
Mark Carver's poetry reflects a cautious mix of optimism and skepticism about human nature, while J.J. Campbell's speaker feels disgust at human frailty and embraces death as an inevitable escape, even while feeling a bit of connection to the 'lost writer' he mentions.
And a few of the speakers resemble 'lost writers,' people on the margins who provide a vantage point through which writers can make complex observations on mainstream society, or who are themselves outside the dominant culture enough to be able to comment on it.
Grant Guy's pieces present people who are wounded, retired, or otherwise left behind or on the edge of society without melodrama and with calm observation. Cheeta Born2Dv8 Lachender presents a wandering traveler's tale. His character is a, thinker, somewhat of an outcast due to his nomadic, unconventional lifestyle and poverty, yet sees himself in the tradition of the great Jack London.
Being able to think in a different way can be a catalyst for personal change, as we see in Joan Beebe's poem, where the narrator gradually shifts her thinking from self pity to hope. Chimezie Ihekuna's first installment of his screenplay The Success Story presents an accomplished student who, over a holiday visit to his family, finds the time and space to realize that he can and must follow his true passion. Chimezie Ihekuna also contributes a set of voice-overs to this issue, experimenting with different identities as a way of finding and expressing his own.
Jonathan Hine's piece illustrates the moment when, during a physical and psychological journey, one realizes that one has changed. Allison Grayhurst presents a panoply of reflections on potential transformation: people who find themselves changed through embracing committed love and partnership, people who fear and draw back from that type of experience, and, finally, the very basic and life-altering moment of giving birth. Jeongeui's paintings of natural scenes symbolize interior personal journeys, as she explains through her artist's statements, and Liz Hughes, in her monthly Book Periscope review column, reviews stories of survivors. M.E. Hinton's protagonist, in the novel Brothers, a Roman Empire slave boy, escapes multiple times in attempts to change his circumstances, while Marcy Browning details her treatment for and recovery from breast cancer in her memoir Better Days are Coming. 
Several contributors are in search of something, which they may or may not ever find. In the prologue to G.X. Chen's new novel The In-Laws, a wife and son lose track of time while mourning the sudden death of their husband and father in an auto accident. Poet John Sweet offers up a string of memories of losses: romances and lives that have passed away. In a piece from her upcoming poetry collection Perfection, translated into Serbian, English and Japanese, Tatjana Debeljacki ruminates on the loss of a deep romantic connection.
Ryan Flanagan stretches the humor in his vignettes to the point of absurdity, then offers up praise for childhood, when that sort of thinking would have been more natural and enjoyable. DS Maolalai's speakers seem always to be thinking of elsewhere: the play someone's girlfriend creates at work, the breakfasts they order away from home, the view they could enjoy if only they had more of a view out their window.
Mahbub returns with a set of pieces where the love the speakers seek is idealized, inspirational, and just out of reach. And Bhavani Rao speaks to the elegance of vintage housewares and antiques, reminiscing in a way about a lost past made more beautiful because it is distant.
We hope that these pieces will inspire you towards your own journeys and reveal to you the capability you have towards positive transformation.