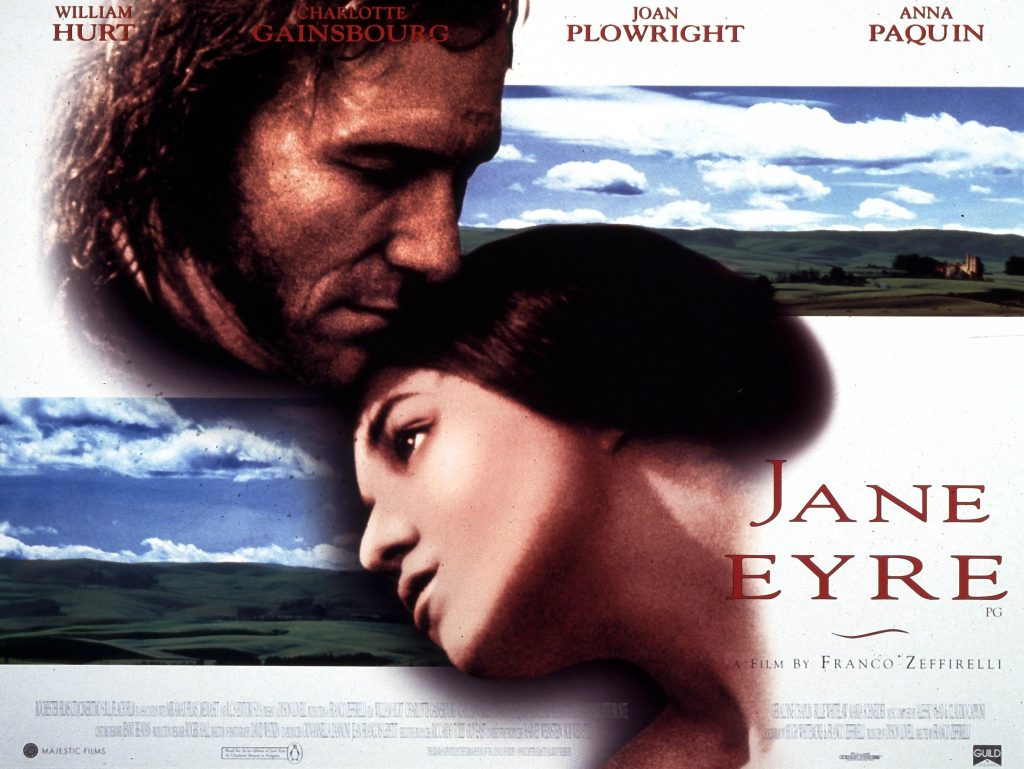 Victorian Literature: Charlotte Bronte's Novel Jane Eyre

•	Jane Eyre is a bildungsroman which follows the experiences of its eponymous heroine, including her growth to adulthood and her for Mr. Rochester, the brooding master of Thornfield Hall.
•	"I grieve to leave Thornfield Hall….I I love it because I have lived in it full and delightful. I have not been trampled on. I have not been petrified. I have not been buried in inferior minds and excluded from the companion of what is bright, energetic and white. I have talked face to face——-with an original, a vigorous and an expanded mind"/ 

•	The novel revolutionizes prose fiction by focusing the protagonist's moral and spiritual development through an intimate first person narrative, where actions and events are coloured by a psychological intensity. 
•	Charlotte Bronte has been the first female historian of the private consciousness. She is the literary ancestors of writers like James Joyce and Michael Proust. 

•	Along with Jane Austen's Pride and Prejudice romance novel depicts social commentary critiquing gender relations, class hierarchy, sexual orientation, religious aspects and feminist discourses.
•	At Gateshead Hall Jane is detested and tormented by her aunt Mrs. Sarah Reeds and cousins Georgiana and Eliza both emotionally and physically.
•	Her education at Lowood School gains her friends and role models but she suffers oppression.

•	Her time as a governess at Thornfield Hill, where she falls in love with the mysterious employer Mr. Edward Fairfax Rochester, her time at the Moor House, during which her earnest but cold clergyman cousin St. John Rivers proposes to her; ultimately leads to her reunion with and marriage to her beloved Mr. Rochester.
•	The Red Room of the Gateshead Hall is symbolic of the ambiguous relationship that exists between the parents and children which plays out in all of Jane's relationships with male figures throughout the novel.

•	Bessy and the apothecary Mr. Lloyds were Jane's amicable acquaintances at Gateshead Hall.
•	Mrs. Sarah Reeds beseeches the aid of Mr. Brocklehurst in enrolling Jane Eyre to Lowood Institution, a charity school for girls.
•	Jane blames that Mrs. Sarah Reeds and Eliza as well as Georgiana were the ones who had been deceitful in unacknowledged of the dying wish of late Mr. Reeds.
•	Helen Burns' poor stance and dirty nails exposes her to harsh lashing at Lowood institution.

•	Miss Temple, the kind hearted woman superintendent facilitates Jane's self-defense and vindicates her any wrongdoing.
•	The 80 pupils of Lowood were subjected to poor meals, thin clothing and cold rooms.
•	Many students fall ill when a typhus epidemic strikes; Helen Burns dies of consumption in Jane's arms. 

•	When Mr. Brocklehurst's maltreatment of the students is discovered, several benefactors erect a new building and formulate a sympathetic management committee.
•	Alice Fairfax provides feedback to Jane's advertisement in the newspaper offering services as a governess.
•	Jane is recruited to be the mentor and governess of the French beau Adele Varens.

•	Jane was carrying a letter to the post from Thornfield Hall and encounters Edward Fairfax Rochester—-the master of Thornfield Hall dismounted by his galloping horse fallen over a iceberg.
•	Despite Mr. Rochester's strange behaviour, they revelry in the merriment of the Eden of Thornfield together embellishing evening….
•	Eccentric and peculiar phenomena coincide at Thornfield Hall with the hysteric maniacal laughter and hilarity of the locked chamber's mystery, a blazing flame in Rochester's bed-chamber and Mr. Mason's fallen victim to violence.

•	Mr. Rochester returns with Blanche Ingram, the heartless and snobbish maiden.
•	Mrs. Sarah Reeds' stroke summons Jane and she receives letter from Mr. John Eyre in which he implores Jane to reside with him and be his heiress.
•	Jane is skeptical of Mr. Rochester's haughtiness in wooing her to betrothed her and aftermath of both the lover's confession; the former writes letter to her uncle stating the proposal of wedding.

•	A strange woman intrudes Jane's bedchamber and rips the wedding veil into two foreshadowing impossibility of marriage by the harrowing grotesquery. Mr. Edward Fairfax Rochester cloaks the clandestine mystery to be the work of Grace Poole.
•	The Lawyer and Mr. Mason dispels the prospects the wedding revealing the fact of Mr. Rochester's betrothal to Bertha Mason.
•	When Grace Poole gets drunk, Mrs. Bertha descends to congenital madness and causes the strange happenings at Thornfield Hall.

•	Jane is tempted and realizes that she will wreck her integrity if she privileges her desires and passions for the sake of a married man; she must stay a virgin in following Christianity.
•	Jane accidentally leaves possessions on the coach and forced to sleep on the moors. She unsuccessfully attempts to trade her gloves and handkerchief for food.

•	Exhausted and starving Jane eventually makes her way to the home of Diana and Mary but is turned away by the housekeeper. 
•	Clergyman St. John admits Jane to the home of Diana and Mary and encourages her livelihood with a new employment at a local school.
•	St John astounds Jane by telling her of her uncle John Eyre's death, who left behind a legacy of UK pounds 20000.
•	Professing marriage confession to the pious and conscientious Jane, St. John Rivers implores Jane to be a missionary's wife and travel to India.

•	Jane Eyre learns of Mrs. Alice Fairfax's retirement and Adele Varens' schooling a few months following her departure's aftermath.
•	Mr. Rochester lost a eyesight and a hand in attempting to rescue the householders from the blazing flame that Mrs. Rochester inflicted by sabotage. 
•	Jane asserts herself financially independent and promises never to forlorn Mr. Rochester. /"Am I hideous, Jane?"…"You, always were, you know."/

•	/"To be together for us is to be at once as free as in solitude and as gay as in company…we are precisely suited in character—-the perfect concord is the result." They live blissfully in an old house in the weeds called Ferndean Manor; they are visited by relations such as Diana and Mary with their newly wedded husbands; St. John Rivers archives salvation by sacrificing his life in the ailments of the colonial epidemics; and the couple stay in touch with Adele Varens eventually.    
   
Blinded and crippled Mr. Edward Fairfax Rochester cannot believe that Jane Eyre had returned to the Ferndean Manor. His suspicion and incredulousness is[D1]  symbolic of the abrupt movement and mannerism: quickened gesture, he demanded, distressing attempt, he ordered, imperiously and aloud: "What is it? Who is it? Who speaks?"——These monosyllabic questions further creates tensions and suspense clinging to the mysterious incarnation of Jane Eyre.

Rochester hyperbolizes that his heart will stop and brain burst and this helplessness and the awful circumstances is conveyed by the verbs groping and wandering. The frustration of blindness is enhanced by the exclaimed speech, "Oh! I cannot see." In this sense, figment of imagination pervades the scene as evidenced by alliterative diction: "Great God!" emphasizes his disbelief, believing that he has gone mad in daring to think that Jane has returned: "what delusion!" "sweet madness". Finally he touches Jane's hands and exclaims with delight that 'This is her shape——this is her size'—–nonetheless the use of dashes and repeated phrases further illustrates her incredulity: "Her very fingers…her small slight fingers".  

Perhaps a figment of his imagination or the supernatural presence: 'in the flesh?' 'My living Jane?' 'is it a dream?'….
 He's [Edward Rochester] every woman's fantasy man. He has a threatening past, and seems untameable, but in the end, is tamed by a girl [Jane Eyre] who makes his pain go away. 

Here are the major and minor characters who feel unhappy, miserable, depressed or nihilistic at certain extent in the novel:
Jane Eyre is exploited and manipulated by her ambivalent and roguish cousins including Georgiana and John that she eventually becomes fiery tempered to outwit and overthrow tyrannical Gateshead Hall; by throwing to hit her inimical brother with the book.
Even in Lowood Charity institute for orphaned girls, she dissociates herself from the association of Mr. Brocklehurst for being nefarious brute towards her. Helen Burns' tragic death from typhus is striking in the poignancy of pathos throughout the educative and reformative years.

Thornfield becomes questioned as the graveyard or burial ground of her fanciful imagination in achieving romantic desires while courting her master Edward Fairfax Rochester. Jane Eyre becomes despondent by the intrusive appearance of Blanche Ingram, who has become the inevitable thorn exposing her to mortification and petrification.
Adele Varens' being sent to boarding school and Mrs. Alice Fairfax's retirement are furthermore glossed as unfavourable for her sustenance in acquaintanceship. Jane eventually throws herself into extreme poverty and inhumane destitution wandering recluse in the moors with coaches and walks.

Jane's wedding with Rochester are symbolic auguries in the multiplicity of narrative perspectives as envisioned in the foreshadowing of Bertha Mason's lunacy to tear away the wedding attire. Mrs. Alice Fairfax's forewarning reveals mysterious past since she is aware of Edward's sullen gloominess concealed in the Thornfield Hall: "I do fear there will be something found to be different to which either you or I expect." Bertha Mason's brother heralding the solicitor Briggs in proving the witness to testify Edward Rochester's unfortunate marriage to Bertha Mason.

Saint John River's melancholic death in the missionary abroad is symbolic testimony to Christ's crucifixion and Jane Eyre's rejection of him renders pitifulness ambience.