THE WHEEL AND THE WILLOW:
POTTERY AND POETRY MEET IN 18th CENTURY JAPAN
morning mists
a dream in paint
of people passing
–Buson
For more than a thousand years, poetry has been an essential element of Japanese cultural life. Waka, the 31-syllable ancestor of haiku, was written and collected in imperial anthologies for centuries. In the early 1600s, a small group of potters, painters and calligraphers emerged in Kyoto, then the capital of Japan. Members of the group synthesized their multiple talents and used the well-known poems to decorate wall-hangings and handscrolls.
In time, the circle became known as the Rinpa School, named after the later adherent Ogata Korin (Rin + pa 'school'). Korin (1658–1716) is one of the acknowledged giants of Japanese art. Among his major paintings are a six-fold screen of the waves of Matsushima and the paired, twofold screen God of Wind and God of Thunder.
Korin, God of Wind and God of Thunder
Early 18th century, 421.6 cm x 464.8 cm
His masterpiece, the paired, twofold screen Red and White Plum Blossoms, is a designated National Treasure.
Korin, Red and White Plum Blossoms
Early 18th century, 156 cm x 172.2 cm each
Rinpa is still regarded today as one of the major movements in the long history of Japanese art.
In the following examples by two of the founders of the school, the calligraphy skills of the potter and tea ceremony student Hon'ami Koetsu (1558 – 1637) are displayed with underpaintings by Tawaraya Sotatsu (c. 1570 – c. 1640) to produce striking imagery in ink, silver and gold:
Early 17th century, 18.3 cm x 16.3 cm
The autumn moon shines brightly
upon the mountain
illuminating every fallen colored leaf
–Anonymous
Early 17th century, 19.7 cm x 17.1 cm
At the break of dawn
a skiff rides the
rapids of the river,
as the boatman's sleeves
drift in the autumn mist
–Koga Michiteru
Emphasizing the autumnal subject of the poem, the underpainting in this piece depicts chrysanthemums and mist in gold flakes and gold dust
Early 17th century, 18.3 cm x 16.3 cm
In the harbor where the waters converge,
the waves are deep red
as the floating autumn leaves swirl and eddy
–Sosei
Early 17th century, 32.8 cm x 40 cm
I do not know if you
will always be true.
This morning after you left,
I recalled your vows to me
looking at my long black hair
so disheveled—
like the tangles in my heart.
— Taikenmon-in no Horikawa
Named among both the Thirty-Six Women Poetic Geniuses and the Thirty-Six Poetic Geniuses of the Late Classical Period, Taikenmon-in no Horikawa was a palace lady-in-waiting to Empress Taiken and a consort of Emperor Toba. Sixty-six of her poems are included in imperial waka anthologies.
Paired woodblock print of the poetess by Nishikawa Sukenobu
1731, 21 cm x 32.4 cm

Following the path of Koetsu and Sotatsu, Ogata Kenzan (1663—1743) introduced literary art to ceramics.
Kenzan, said Richard Wilson, a professor of Japanese art "was no ordinary potter. The scion of a highly cultured Kyoto family, he spent his early adulthood pursuing Zen and studying Chinese poetry and calligraphy. When he finally took up ceramics at age thirty-seven, it wasn't to display manual skill but rather to translate the world known to him into ceramic design." The work was revolutionary in concept and execution.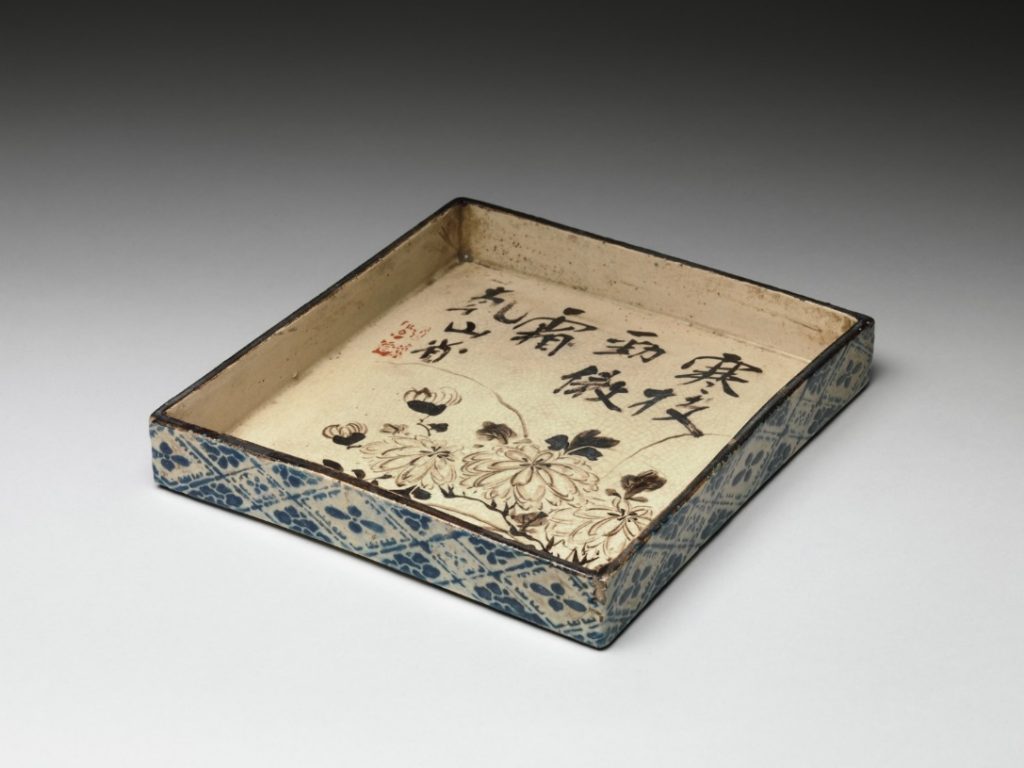 Kenzan, Clay Tray
ca. 1720, 22.5 cm x 24.8 cm
"Desolate sprays, unyielding, defy the frost"
Kenzan's unconventional work and willingness to challenge rivals in the marketplace won him great commercial success for much of his life. Notes to a recent exhibit provide a flavor to his work:
His most powerful weapons in that fierce competition were his fresh new designs, based on concepts created by his older brother, Korin. Mukozuke dishes with designs bordering their rims or wide-mouthed bowls that capture the moment when a stream is racing along, transcending the boundary between the interior and exterior: even today, his ideas, cutting across between the three-dimensional and the flat, seem new and full of playful inspiration.
Two plates from a series comprising a ceramic calendar demonstrate Kenzan's technique and poetic sensibilities. A scene representing the month was painted on the face of the plates. Two poems by Fujiwara Teika are glazed on the bottom of the plates, one for the flower associated with the month, and one for the bird associated with it. While Kenzan reaches for "three perfections" of painting, poetry and calligraphy in this mode, the items were meant for functional use. "The users," said Wilson, "presumably enjoyed identifying the texts and images and trading their knowledge with companions."
Kisaragi
The Second Lunar Month
Early 18th century, 20.32 cm x 17.98 cm
Cherry Blossom
The February sky of cherry blossoms,
Fragrant reflections
On the sleeves of passers-by;
Sprigs in their hair.
Pheasant
A spring time hunter,
His trail in the mist.
The cry of a pheasant
Calling his mate.
Shimotsuki
The Eleventh Lunar Month
Early 18th century, 20.32 cm x 17.98 cm
Loquat
Greenless fields
Of wintry days,
Loquat blossoms on evergreen branches—
Or, is that a frost?
Plover
Plovers chirp on
Shoals in the Kamo River.
From the moonlight
The hills play hide and seek.
One major literary source Kenzan drew upon for his work was the Enki-kappo, a popular anthology of Ming Dynasty poetry translated from the Chinese into Japanese in the 1650s. But a more important source was the poetry written by the Japanese Buddhist priest Sanjonishi Sanetaka, who lived from 1455 to 1537:
Spring Moon
How many more years must I grow older?
There's no mist tonight , but the moon appears so blurred.
Kenzan's own art and poetry were heavily influenced by Sanetaka. For Kenzan, autumn was a recurring theme:
Kenzan, Maples and River
Edo period, 18th century, 30.5 cm x 43.1 cm
Kenzan, Autumn Ivy,
after 1732, 21.3 cm x 27.6 cm
Though not yet
winds through the pines
blow all around
and I dread they'll scatter
the crimson leaves of ivy.
After collecting matsutake mushrooms with a group of friends in 1692:
Like Xie Lingyun [of ancient China],
Leaving my hut in mindless haste
For a mountain temple, barren with fallen leaves,
While still lost in high-minded amusements,
The temple bell tolls the day's end.
In 1962, Bernard Leach, 'the Father of British studio pottery,' made his fifth pilgrimage to Japan and chanced upon what first seemed like a startling discovery—a spectacular trove of 160 Kenzan ceramics and eight notebooks covering a period of 15 months when Kenzan was in his mid-70s. There were immediate allegations that the items were fakes, but Leach was convinced of their authenticity.

Now regarded as forgeries by most but not all critics , the notebooks contained pottery designs, descriptions of his work and materials, and stories of his hosts, characterized as Men of Tea, poetry, painting and pottery. Nostalgic waka and haiku punctuated almost every page. Falsely attributed to Kenzan or not, the poetry maintains a certain merit of its own. As translated by Leach:
The flowers of summer are gathered in festival;
How pleasant a quiet cup of sake.
A man leading a horse,
The autumn wind blows through its mane.
A priest sweeps pine needles
In cold autumn rain.
Over the notes of a flute,
The light snow falls.
From out of dead trees
Circle the rooks;
The moon takes their place.
The snows are melting
On the hills,
Nightingales sing again
As they did in Kyoto.
And one that Leach suggested was a self-portrait of the potter:
Amongst a group of willows
There is always one that does not sway with the breeze.
Kenzan never married, though he adopted one son and later fathered another with a young Kyoto woman of the Miyazaki family. Both sons became potters themselves. Absent the master's hand and diluted by imitators, the Kenzan style lost some of its luster in the mid-1700s. Sakai Hōitsu (1761—1829) is credited with reviving the brand in the 19th Century. The style continues to resonate artistically and commercially.

Toward the end of his life, Kenzan moved from Kyoto to Edo, where he enjoyed the friendship and support of his greatest patron, Prince Kōkan, abbot of the wealthy Buddhist Rinnōji temple. Kōkan died in 1738 at the age of 42. Three years later, Korin's widow, Tayo, with whom Kenzan had an abiding friendship, also died. Having outlived patrons and friends, Kenzan's last years were no doubt touched by some measure of loneliness. He moved a final time to Fukugawa on the banks of the Sumida River outside Edo on what is now called Tokyo Bay. He died in 1743 after a short illness, alone in his rooms at a boarding house owned by a timber merchant. His modest departure from the physical world belies the enduring legacy he left behind to generations of Japanese artists and potters.
Two death poems are inscribed on his gravestone. The first is a Buddhist epigram:
Pleasure and pain once passed
Leave naught but dreams.
The second speaks more closely of the man:
All my life through
These eighty-one years
I have done what I wished
In my own way:
The whole world
In a mouthful.
Kenzan, Plum Trees
First half of 18th century, 113.98 cm x 292.42 cm
Russell Streur
Holder of two awards for excellence from the Georgia Poetry Society, Streur is the author of Fault Zones (Blue Hour Press, 2017) and his work is included in the anthology of Georgia poetry Stone, River, Sky (Negative Capability Press, 2015). He is currently the editor of the on-line eco-poetic journal, Plum Tree Tavern, located at https://theplumtreetavern.blogspot.com/
…